This post has already been read 10976 times!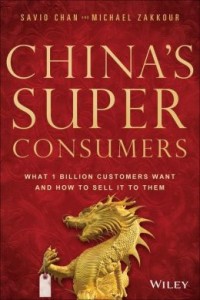 China's super consumers are the biggest and most important consumer class in history. In his new book China's Super Consumers: What 1 Billion Customers Want and How to Sell it to Them,Tompkins International Principal Michael Zakkour explores the extraordinary birth of consumerism in China and explains who these super consumers are. Take a look at 10 interesting insights from the book:
No matter what products or services you are selling, you cannot succeed in China or with Chinese consumers without first mastering culture, history, language, and philosophy.
There is no "how to succeed in China" formula. Every company must start with the above to determine strategy, then implement structure and adjust every six months.
China is not a "market," but rather it is comprised of 22 distinct market clusters. The old model of marketing to Tier I, Tier II, and Tier III cities no longer applies.
China has the second highest number of billionaires, only surpassed by the US. It also boasts 2 million millionaires and the world's largest middle class at 350 million (will grow to 500 million in the next 5-10 years).
China went from Sandpaper to Sephora and Feudalism to FENDI in 30 years. Consider this: in the late 1970s, Chinese women used sandpaper on their faces because there was no makeup. French cosmetics retailer Sephora now has more than 250 outlets in China.
There is now a "China Global Consumer Demographic." Companies must have a "China-US-World" strategy to engage them everywhere, not just in China.
China has more e-shoppers (400 million) than the US has people (320 million).
Alibaba, the world's largest e-commerce company, generated $100 billion more in revenue than the second and third largest e-commerce companies (Amazon and eBay) combined in 2013. (Click here to watch The Alibaba Effect)
The Chinese are thirsty—they drink more beer and wine than any country on Earth and have made China Starbucks' #2 market in the world.
Companies must rethink their global, regional, and local supply chains for China as the country is now a market as well as a production hub.
Click here to order your copy and visit www.chinasuperconsumers.com to learn more.
Latest posts by Jim Tompkins
(see all)