This post has already been read 14370 times!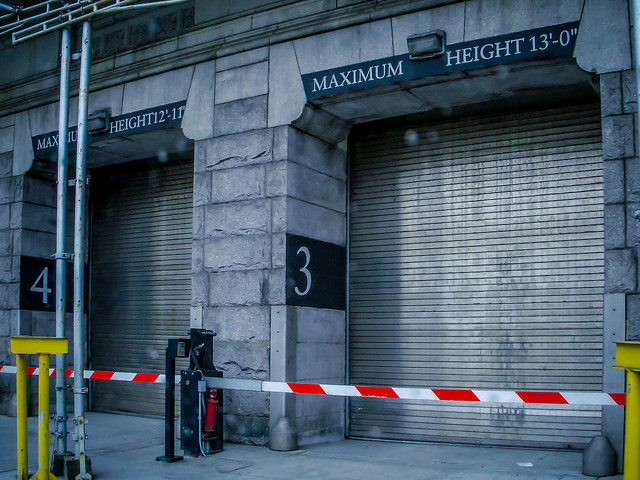 Note: This Guest Post is by Robert McClain, Senior Consultant, Tompkins International
Docks are the interface to the facility where goods are received and shipped. They are also the point of the warehouse where machine and personnel come in close proximity. They are a place where thousand-pound loads are handled by heavy machines in fast-paced environments.  Dock safety is and should be a part of every operation. A Greenfield or up-fitting an existing facility is an excellent time to address dock safety, but just because you're in an existing facility doesn't mean safety cannot be enhanced.
Common dock hazards can include:
Truck drive-away –Improperly restrained trucks that pull away if the driver thinks the loading process is complete
Trailer creep –Unrestrained trucks that 'creep' from the dock door due to the action of fork trucks entering and exiting the trailer
Water egress – Spills, wet loads, rain that create slip hazards
Clutter – Empty pallets, corrugate, debris that create trip hazards
Poor visibility
Falling objects
Some of these basic dock accidents can be easily avoided when proper safety measures are considered. These can include:
Truck restraints to reduce the hazards created by drive-away and trailer creep

Proper restraint type is important. Solutions range from simple wheel chocks to fully automatic trailer restraints. Enhancements to these solutions include wheel chocks with handles and flags to improve visibility and trailer wheel or under-run bar (ICC bar) clamps.
Restraint status lights work in conjunction with the restraint to signal the driver and loader of the loading process status.
A simple but effective method of preventing truck drive-away is to take the drivers keys when they sign in and hold them for the duration of the loading/unloading process.

Dock levelers to bridge the gap between the trailer and loading dock. They also serve to level the height between the surfaces as the height of the trailers changes during the loading/unloading process.
Dock seals and canopies prevent water from entering the facility and creating slip hazards.
Lighting on the fork truck and dock door to improve visibility of the load and personnel working in the area.
Netting on elevated loading conveyors and pedestrian traffic control in the dock area to reduce product damage and personnel injury due to falling objects.
General housekeeping – Picking up debris as it occurs, organizing, sweeping, and mopping all helps identify and minimize hazards.
At Tompkins International, we work to ensure that dock safety is a part of every design. However, this emphasis is not limited to the design phase, during planning, or implementation. We are constantly applying our experience in thousands of warehouses in offering advice on how to improve existing facility safety. No one-size-fits-all solution exists because all warehouses are different, but taking advantage of new technology and utilizing sound processes can minimize hazards.
Latest posts by Jim Tompkins
(see all)