This post has already been read 1930 times!
Lasers offer an efficient and reliable solution to the marking and tracking of product and parts
As the robotics industry continues to expand, engineers are looking for ways to streamline their production processes. Laser marking technology is an increasingly popular solution that can help meet the stringent quality and regulatory standards required by this sector. Modern laser marking delivers consistently accurate results with superior cost-efficiency, reliability, and output quality compared to traditional marking methods. Let's look at how laser marking technology can be used in robotics applications to help streamline and scale production processes.
"Laser marking is fast, reliable, versatile, and permanent. It is easily integrated into production processes and can be applied to a variety of materials, from glass, plastic, wood, and metals." -Aled Ellis @LaserNeedham
Click To Tweet
Integration of Robotic Part Marking
Engineers in the manufacturing industry are constantly seeking new ways to make their production processes more efficient and cost-effective. As robotics plays an increasingly important role in today's industrial environment, engineers need to be aware of the latest technology available when it comes to coding and labeling robotic units. Fortunately, laser marking technologies have made large-scale deployment of robots possible throughout factories worldwide – and the UK's laser technology is at the forefront of this surge.
For engineers looking for a reliable way to integrate robotic part marking into their operations, learning about these advanced laser marking solutions is essential.
Engineering with Laser Technology
The rapid expansion of robotics is seen in all industries, but no other has seen its seamless integration quite as much as the manufacturing and production engineering sector. Engineering-related assets are increasingly in demand for laser marking, which can be necessary for a variety of industrial applications requiring the manufacturing of parts.
For these businesses, it is crucial to correctly and permanently label assets with precise identification in order to regulate and track them during their entire life cycle. Laser marking systems are becoming an increasingly popular choice for identifying components and tracking their life cycle due to their precision and permanency.
"Traceability is vital in so many different industries, from aerospace and defense to automotive and retail. Laser technology creates clear, legible, permanent marks on parts." -Alex Ellis @LaserNeedham
Click To Tweet
Benefits of Laser Marking
Using laser technology to mark parts offers a number of benefits over traditional methods such as rotary engraving or dot-peen systems.
With lasers, engineers have the ability to permanently mark a range of data such as serial codes, matrices, component numbers, pictures and lot coding – all of which can be instrumental for quality assurance and tracking. Laser marking also provides a non-contact, efficient application of a design that does not compromise the integrity of the material and allows for the reproduction of exact markings without a discrepancy between parts.
QR codes are ideal for transmitting a wide range of information, including serial numbers and barcodes.
For example, depending on the application, a person can learn when the last servicing of a machine or piece of equipment took place by scanning the laser-engraved barcode with a smartphone.
This makes laser marking a good option for large-scale production lines as it allows for quick and precise identification of parts over their entire life cycle. It is also invaluable in industries where traceability is paramount to ensure the safe manufacture and delivery of consumer products.
Ultimately, laser marking technology is a great tool for engineers to use when looking to achieve accuracy and traceability in robotic units or other production lines.
With its ability to permanently identify parts, laser marking is ideal for engineers looking to ensure quality and longevity. The ability to apply such systems seamlessly on immense scales allows for a fast, automated manufacturing process that requires minimal user intervention – and with fewer moving parts, it is a viable cost-effective strategy to take a production level to whatever scale, efficiency, and quality it strives for.
"With laser marking, the robotics industry achieves increased productivity, better protection against unauthorized tampering, and more reliable tracking across the supply chain." -Aled Ellis
Click To Tweet
---
Recommended Posts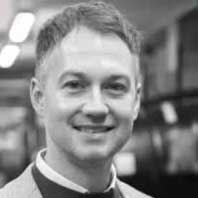 Latest posts by Aled Ellis
(see all)