This post has already been read 11779 times!
Connecting domestic logistics to demand and supply to meet today's challenges
We all know there are some significant challenges facing the logistics providers. To name just a few:
Skyrocketing gasoline prices
Driver shortages
Worker shortages to unload cargo
Legislative requirements
Lane Imbalances
Finding and retaining the right people (attitude, aptitude, knowledge)
A lot of these are outside of our control. But there is a lot that Logistics Service Providers can do to minimize the effects of these challenges, and to become more agile, efficient, and profitable.
Modernizing Domestics Logistics Requires a Multi-Pronged Approach
The good news is that technology has come a long way, and now offers many more options for companies to reorganize around more streamlined processes, leverage digital technologies like the cloud, edge computing, IoT, AI/ML, and robotics and automation, to deliver more value to customers at less cost.
With the increasing importance of data, companies that lay a solid foundation today, will reap significant rewards tomorrow, due to their ability to harness that data through machine learning, glean new insights, and drive new opportunities while continuously improving.
The world of business, including the logistics industry, is rapidly becoming digitized, automated and interconnected. While standalone systems for Transportation Management, Yard Management, and Warehouse Management still work, they are increasingly falling short in a fast-moving and rapidly changing world. The siloed nature of the systems, and the need to pass data back and forth, means decisions are made on old and incomplete data, and the organizations are unresponsive and brittle.
Modernizing Domestic Logistics: How companies can leverage new processes, strategies, and technology to meet the today's challenges in domestic transportation management….
Click To Tweet
Organizations that are digitized, interconnected, employ parallel processes, and continuous learning loops, are evolving rapidly, and gaining a significant competitive advantage over those that are not.
But technology is not enough. Organizational changes, new roles and logistics processes, will all play a part. And identifying the right strategies and effectively navigating the change, is not easy.
Modernizing Domestic Logistics: Guidance from the Experts
This is why I've brought together two experts in logistics, Pieter Bam of Accenture, and Uida Havinga of Imperial Logistics, to discuss what logistics companies can do, to improve their adaptability, efficiency, and resilience, in the face of today's challenges.
We'll be discussing:
What is optimized execution, and why is it an important capability today?
What difference does it make if you connect logistics into demand and supply – and how is it different to what we do today?
What is "supply-demand matching," and how can we use it today?
How can connecting related supply chain data and activities optimize and synchronize overall logistics activities?
What are some of the practical takeaways that the experts learned in their many years of helping companies transform?
Join us for this important perspective from two leading experts in logistics.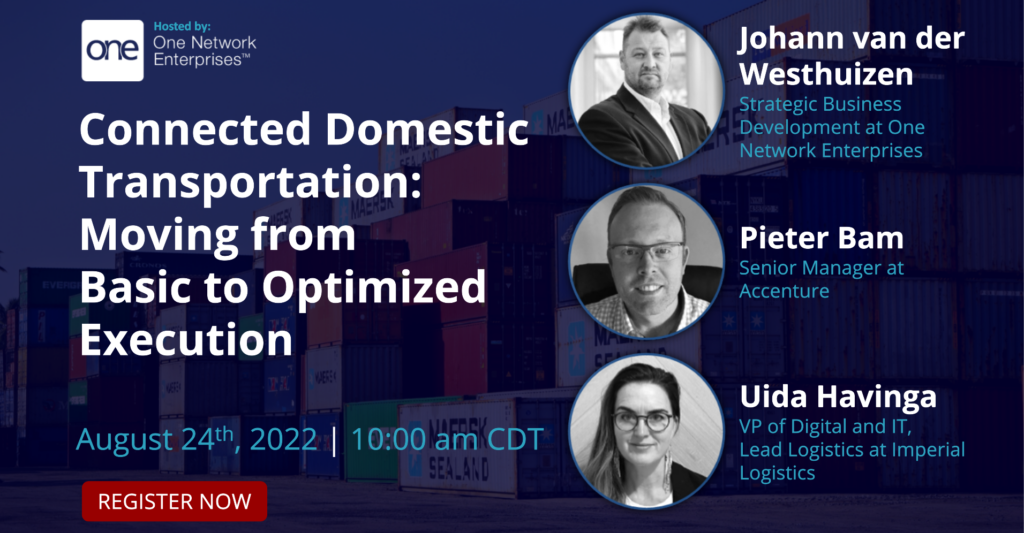 Latest posts by Johann van der Westhuizen
(see all)