This post has already been read 10385 times!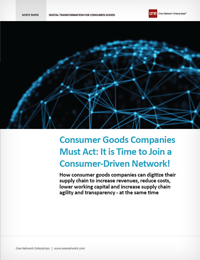 For the last 25 years or so, retailers and consumer goods companies have relied on enterprise-centric supply chain software and EDI to build their supply chains. Imagine the complexity and cost of building and maintaining point-to-point connections one-up/one-down and yet ending up with sub-optimal results – high inventories, inefficient operations and poor on-shelf availability, coupled with a lack of velocity and transparency.
This situation will not cut it going forward. Hyper-connected consumers and ruthless disruptors (think Amazon) will force retailers and consumer goods companies to digitize their supply network in order to win the battles ahead. The best way forward is to join a Consumer-Driven Network and connect your entire B2B network to a single network platform that will synchronize supply and demand at every node on the network. The results? Increased revenues, reduced costs, lower inventories and improved supply chain agility, velocity and transparency – at the same time!
Download the white paper below to find out how you can digitize your supply chain today:
Digitizing the Consumer Goods Supply Chain
Latest posts by Bernard Goor
(see all)