This post has already been read 14435 times!
Understanding How a Network Can Create Shared Value for All
If you're like many organizations, you are looking for progressive ways to transform your supply chain to improve performance and to better manage customer demand. This is more true than ever as the pandemic has highlighted the shortcomings of the traditional ways of a running a supply chain. Thus, many businesses are embarking on a digital transformation in an effort to turn linear supply chains into connected, intelligent, scalable, customizable, and nimble digital supply networks. Similar in concept to social networks such as Facebook, these supply chain networks are creating breakthrough results and powering business processes quicker and more effectively, while handing the increased variability that the pandemic has thrown at us.
"Uber was so disruptive, because it deployed a network that matches supply to demand in real time by connecting ride-seeking individuals to ride-providers." - Ranjit Notani @onenetwork
Click To Tweet
Digitally transforming the supply chain into a Digital Supply Chain Network allows parties to collaborate on the same shared objects using shared applications.
More importantly, these networks are changing the way business is done by allowing companies to organize, manage and engage, their partners for a competitive advantage. More than just "moving to the cloud", these networks enable game-changing multi-party or multi-company applications by enabling all-parties to better manage capacity and keep their focus on the end-goal of customer satisfaction. In fact, many would consider Uber a network where it connects individuals who are providing rides with those who need them.
What's Driving These New Networks?
It started before the pandemic, though the pandemic has increased the urgency with which companies are transforming their supply chains. According to Gartner, multi-enterprise supply chain business networks support a community of trading partners – of any tier and type within an industry-leading network – that need to work and communicate/collaborate on business processes that extend across multiple enterprises, with an end-to-end and shared focus. Such solutions provide their community with multi-enterprise functionality, services, and security with special emphasis on supply chain visibility and executional processes.
Gartner analysts Christian Titze and Simon Bailey wrote in a report that "multi-partner digital ecosystems are becoming the pre-eminent form of collaboration to support new digital business models."
The end of vertical integration and the rise of specialization is creating huge competitive advantages to those companies that can leverage their partners most effectively. Networks are particularly important for those companies that deal with hundreds or thousands of partners or who require workflows that require more than just two parties.
Why EDI and API Calls Between Parties Aren't Cutting It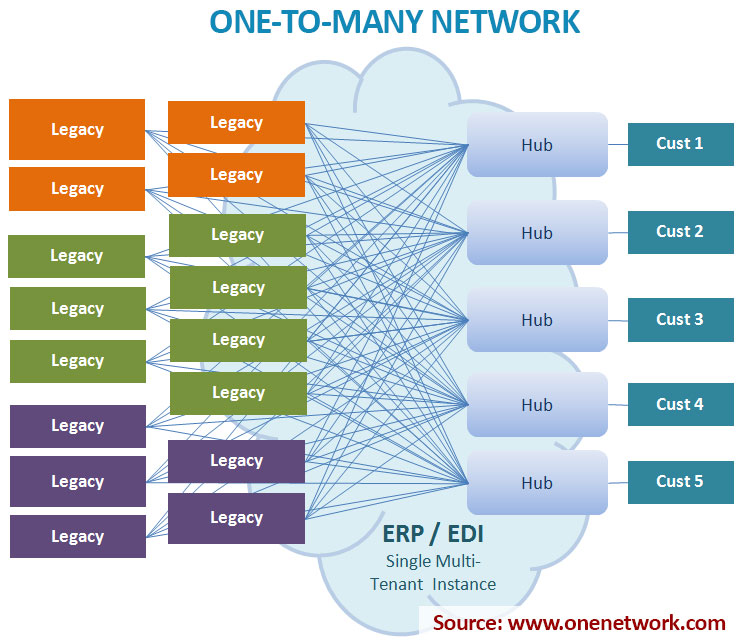 While many organizations tried to leverage electronic data interchange (EDI) and application program interface (API) to exchange documents and/or to design a set of routines, protocols, and tools for building software applications with their trading partners, the reality is these point-to-point approaches just can't scale to meet large numbers of trading partners. They are also incapable of supporting the sophisticated, multi-party workflows that are required for most routine transactions.
Rudimentary EDI and API techniques are simply not set-up to support today's multi-party environment never mind an organization's digital transformation. - Ranjit Notani @onenetwork
Click To Tweet
A Single Version of the Truth for Your Supply Chain
These EDI and API "band aids" are superficial fixes for a deep problem. These methods create massive data synchronization issues because there is no single version of the truth, especially when workflows expand beyond just two parties. For instance, a simple four-party workflow is painful enough to get billing done properly as it involves participation from the hospital, a patient, attending physicians and an insurance company.  Now, imagine the complexity when you add-in the fact that patients often have to deal with multiple doctors and hospitals; doctors have to deal with multiple insurance companies; and insurance companies have to deal with multiple hospitals, doctors and patients.
Recommended: Digitizing & Optimizing Complex Multi-Tier Supply Chains
Rudimentary EDI and API techniques are simply not set-up to support today's multi-party environment never mind an organization's digital transformation. Networks support partner connectivity and are built on a many-to-many network architecture that includes solid data governance, interoperability, enterprise system and multi-channel integration.
The Components of a True Network Platform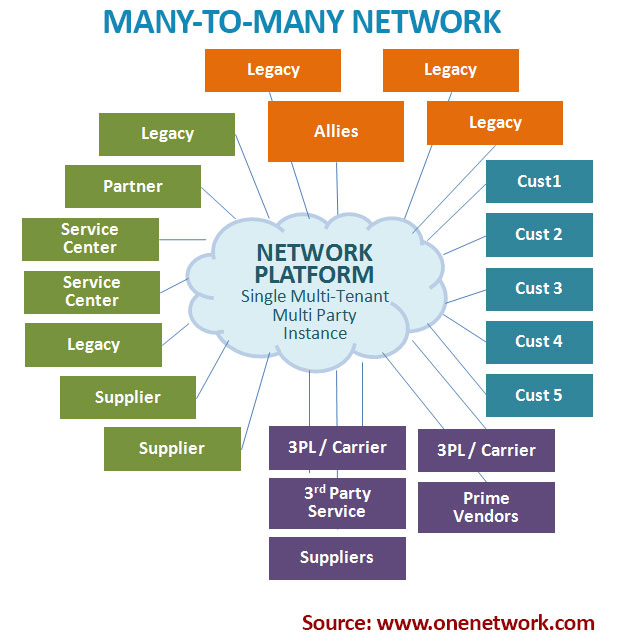 In the report mentioned above, Gartner advises supply chain leaders to develop a proactive strategy for engaging their business ecosystems and select the right mix of business processes and technology. But what does that mean? When it comes to selecting an effective network solution, it is critical to do your homework to ensure it includes the following capabilities:
Multi-party transactions and master data management provide single version of the truth. Instead of replicating data, there should be a single version of the truth mediated by a permissions model.
Upgrade multi-party workflows while maintaining backward compatibility.
Private processes that can be independently updated on top of shared network processes.
Onboard once and then conduct business with anyone (subject to permissions, agreements, contracts, etc. of course).
Near-real-time global visibility to see what's occurring now.
Intelligent agents that run on top of the near-real-time global backbone to provide intelligent sense-and-respond as this can dramatically increase the responsiveness, automation, and intelligence of the network. Agents can also employ machine learning to constantly improve their function.
Tunable system-of-control to allow individual systems or process steps to be independently moved onto the network. This is a critical capability because expecting every partner and every process to be simultaneously and fully onboarded is impossible.
High uptimes and data access SLA's to ensure minimal disruptions.
A modular architecture that allows individual modules or apps to be built by different parties and then assembled into a network solution.
Recommended: The Network Effect for Supply Chains – compound value across your supply chain
Why ERP and Hub and Spoke Models Fall Short
Because ERP solutions were designed to handle private processes, they are very weak for cross-enterprise shared processes. "One-to-many networks" or the "hub-and-spoke" model where a single company (hub) surrounds itself with other companies (spokes) aren't any better. First, its hard to decide which company should be the hub and which should be the spoke. If you and your partners can manage to get past this, the next problem is that spokes need to onboard multiple times; once for each hub they are dealing with. This is extremely onerous and a major reason why hub-and-spoke networks have failed beyond basic EDI. Aside from being unwieldy, workflows involving more than two parties become very difficult.
Networks, on the other hand, are centered around our customers attaining value. Rapid time to value means the system is self-funding versus the traditional ERP model where you bear the entire financial burden. One Network's Digital Supply Chain Network™ creates true consumer-driven communities that connect companies and their entire ecosystem to a common cloud-based platform or network, so they can collaborate in real time.
One Network's NEO Platform connects all trading partners to the AI powered network, helping you collaborate, optimize, and execute together to serve your end customers. Not only does this network help support growth and better manage capacity, it also allows all parties to concentrate on what's most important—serving its customers. Supply chain leaders focused on manufacturing operations strategy can use this research to extend capacity planning to the full network.
---
Video: Ranjit Notani Discusses Networks
Ranjit Notani, Chief Technology Officer of One Network Enterprises, explains the nature of networks and the benefits companies can gain from joining a multiparty network.
---
You might also like….
Recommended Posts
Latest posts by Ranjit Notani
(see all)