This post has already been read 11698 times!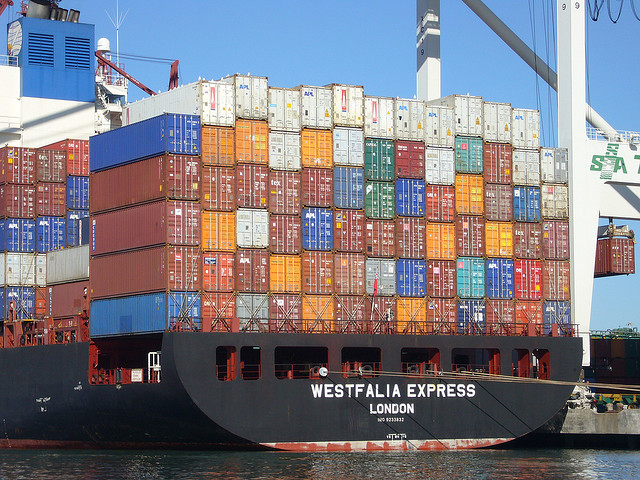 By Chris Ferrell
Director, Tompkins Supply Chain Consortium
Retailers are paying close attention to labor disputes threatening to bring a stop to imports coming in to West Coast ports. They are anxiously awaiting (and hoping for) a successful dock worker agreement between the International Longshore and Warehouse Union (ILWU) and the Pacific Maritime Association (PMA).
Retailers rely heavily on these ports for imported goods coming in from Asia. How could this affect them in the long run? Will this continue to be a major disruption?
We do not expect the ongoing labor negotiations at the West Coast ports to cause a substantial interruption on a wide-spread basis. Shippers still bear the scars from the disastrous 2002 work stoppage and have countermeasures in-place to avoid major disruption.
While it is true that retailers still rely heavily on the U.S. West Coast ports, on a percentage basis they are not as reliant as they used to be. Even when there isn't a threat of a West Coast work-stoppage, retailers are utilizing Atlantic and Gulf ports to support stores in the Eastern half of the U.S. a lot more than even a few years ago. Savvy shippers have also diversified West Coast destinations to include Vancouver and Prince Rupert in Canada where labor disputes are not at issue.
So, while the West Coast situation may cause a minor up-tick in freight being routed to the Eastern Ports (Eastern freight is up from 38% in January to 41% in May, according to Hackett Associates), it won't go a lot higher because the Eastern routes have been running near capacity for several months and are now basically full.
What we've primarily been seeing is retailers advancing their order timeline—bringing the goods into the same ports as always but ahead of any potential West Coast work stoppage. According to the National Retail Federation, cargo volume into the West Coast was up 6.6% in May over the previous year, with estimates for June being even higher. Even when factoring in an economy that is healthier than a year ago, these numbers suggest retailers are pre-loading Holiday inventory.
Bottom line: the mere threat of a West Coast work stoppage has already been a major imposition and inconvenience to shippers but the actual risk to the 2014 Holiday season is much less.
What are your thoughts on this issue? Do you agree with these predictions?
Latest posts by Jim Tompkins
(see all)