This post has already been read 11372 times!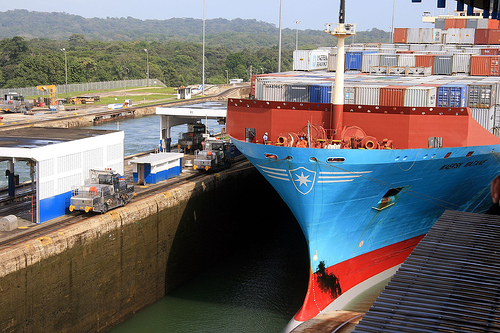 I recently had the privilege of sitting in on an education session that featured a very informed update on the Panama Canal expansion. In fact, it was one of the more lively sessions at the 2013 Supply Chain Leadership Forum.
The first set of new gates for the canal expansion had just been delivered, and although the presentation was on the progress being made in Panama, the conversations and questions tended to gravitate to what is going on in the states. Some of the key questions included:
Which ports are already able to receive Post-Panamax ships (e.g., Norfolk)?
Which ports are aggressively expanding through dredging (e.g., Miami) or other infrastructure changes (e.g., NY/NJ increasing the clearance of the Bayonne Bridge)
Which ports (e.g., Boston) are choosing to cater to the smaller vessels in lieu of expansion?
Similarly, there was much discussion on how the East Coast railroads – Norfolk-Southern and CSX – were walking a fine line between aggressively expanding inland service (NS's Heartland Corridor; CSX's National Gateway Imitative) to take advantage of business coming through the canal while not upsetting their two largest customers … the Union Pacific and BNSF (i.e., the West Coast railroads).
And remember that this is all occurring while the CN and Kansas City Southern continue to pitch and develop mid-America alternatives to both the US West Coast and the canal through Canada (CN) and Mexico (KCS).
Even if some of these plans get substantially delayed (I'm looking at you, NY/NJ) or never come to fruition (I cheering foryou KCS!), the increased capacity and competition will prove to be a tremendous benefit to international shippers. Why? Because it's not as if our West Coast ports and railroads are going to give up their current volumes without a fight.
But beyond a simple "race to the bottom" on price, I see the steadily-developing alternatives as a boon for more sophisticated, blended, multi-modal solutions that will offer shippers an increasingly nuanced means of optimizing service, cost, and risk. When that happens, every shipper – even those who ultimately remain status quo – should stand to benefit.
Have you investigated how the Panama Canal expansion will affect your company's shipping strategy? Do you have any predictions about how multi-modal transportation, in general, will be impacted? Let's continue the conversation.
More Resources
Eliminating the Gridlock in Transportation
Five Step Approach: Can You Capitalize on the Panama Canal Expansion?
Six Ways to Save Costs in Transportation and Logistics
Photo Credit: gailf548

Latest posts by Jim Tompkins
(see all)