This post has already been read 2126 times!
Given the recent innovations within the fields of big data, AI, robotics, autonomous systems and computer vision, supply chain operations is changing. Foresight is key, and Control Towers can help increase the overall resiliency of supply chains.
Everything is changing in how organizations decide to manage supply chains, yet nothing is really changing within supply chain management.
The sources of stress are new, but the solutions and the fundamental drivers for solving supply chain problems are the same as they were 15 years ago. Every business aims to make their supply chain more agile and resilient in the long term. Resilience, Reshoring, Control Towers, Integrated Business Planning – these are simply the names given to drivers which organizations use to resolve familiar supply chain tensions.
One recurrent theme for all business woes is foresight.
If only we knew in advance that the prices of a certain commodity would skyrocket.
Or that our decision to manufacture here would have a profound impact on our profitability.
Or that the supplier we picked would face infrastructure problems.
And so on.
"If only we knew in advance that a commodity price would skyrocket, or manufacturing location would affect profitability, or a supplier has infrastructure problems. In many cases we can…" -PKS Prakash, PhD @pksprakash
Click To Tweet
If we had anticipated these risks, could we avert the resulting issues? A strong belief in the benefits of more timely information and greater visibility is at the core of many new initiatives in the supply chain ecosystem. And what provides timely information and greater visibility?
A Control Tower – which is, as the name suggests, a dashboard of metrics, performance measures and events. This is why most supply chain leaders consider visibility and Control Tower implementation a high priority.
What is a Control Tower?
At its core, a Control Tower integrates various data to monitor key business metrics, such as Order Fill Rate (OFR), which captures the number of SKUs successfully shipped in the first attempt. OFR is a key indicator of the overall performance of the supply chain. This is because the OFR can be impacted by a multitude of factors: inaccurate demand forecasting, insufficient inventory, logistical issues, IT system problems, supplier problems, labor shortages and capacity issues at warehouses.
For instance, a few years ago Target lost more than $2 billion in inventory due to incorrect forecasts, an inefficient logistics system, and a wrong pricing strategy. This resulted in empty shelves for some products, and overflowing shelves for other overstocked products.
"Inaccurate forecasts and and poor visibility into stock levels leads to disaster, as the two examples of Target and H&M demonstrate." -Arun Shastri, PhD @arunshastri | How to Enable Greater Foresight in Supply Chain Management
Click To Tweet
Similarly, in 2018 H&M faced a similar problem with unsold inventory worth $4.3 billion, piled-up due to incorrect forecasting and insufficient visibility into the stock levels. This resulted in over-production and excess inventory. This surplus resulted in obsolescence, while the shortage of products negatively impacted order fill rate, causing dissatisfaction among customers.
Had Target's and H&M's leadership prioritized visibility into metrics such as Inventory turnover, Inventory to sales ratio, Days sales of inventory (DSI), forecasting performance, and other relevant KPIs, they could have received early performance signals and perhaps prevented this loss.
How a Control Tower Helps
A Control Tower is a centralized monitoring system that manages the flow of information within the supply chain. By providing real-time visibility into the entire supply chain, from supplier to customer, it enables organizations to make better decisions. This in turn can improve revenue, reduce logistics costs, improve labor efficiency, and optimize capital efficiency through reduced inventory holding, destruction, donation, and discounting.
A well-designed Control Tower provides the following key features:
Visibility: Offers real-time visibility into the entire supply chain, from supplier to customer.
Integration: Integrates multiple data sources including enterprise data sources, third party vendors, IoT devices and more to provide a comprehensive view of the supply chain.
Automation: Helps automate processes such as demand planning, inventory management, and transport planning to improve efficiency and reduce error.
Collaboration: Connects varied stakeholders such as suppliers, logistics providers, and consumers to enable effective decision-making.
Scalability and flexibility: Provides the ability to handle a large volume of data while adapting to it nimbly.
Security: A control tower captures sensitive business KPIs, and so it must protect this information.
Like Target, Best Buy would have benefited from a Control Tower in 2011, when the company had to cancel some orders ahead of Christmas. This was due to overwhelming demand but perhaps this could have been anticipated with real-time data and visibility. Instead, the cancellations led to disappointed customers in the middle of the holiday season.
Similarly, during the COVID-19 pandemic, many companies have experienced supply chain disruptions, which then led to missed targets.
For instance, Gap lost $550 million in sales in 2021 due to lack of inventory caused by manufacturing location closures and port congestion. A control tower would have helped Best Buy and Gap by providing real-time visibility on inventory levels, shipping schedules, and delivery times, allowing them to better manage their supply chains and ensure that orders were fulfilled in a timely manner. Additionally, the control tower would have enabled Best Buy to communicate with its suppliers, carriers, and customers more effectively, reducing the likelihood of canceled orders.
Know Your Control Tower's Limitations
These features do not come easy. Control Towers often rely on manually-input data, which can be cumbersome and error-prone. In addition, such data may be outdated, compromising decision-making. And the presence of the Control Tower does not always alleviate the need to look across functions. Bottlenecks and risks often have dependencies across functions – one must proactively look for these signals across silos. Many Control Towers are enterprise-based by default, and must be manually integrated to other systems and external trading partners. A network-based control tower eliminates these gaps by enabling enterprise systems and trading partners to connect once to the network, and then share data across functions and partners.
A natural tendency with most dashboards is to be descriptive, perhaps diagnostic. But the true value of a Control Tower is in its ability to be predictive and prescriptive. This much more difficult to achieve. (See The 4 Types of Control Towers.) Finally, any dashboard must be accompanied by sound and timely decision-making. Even an organization with a robust decision-making culture may struggle to scale impact if it relies on manual processes. AI and autonomous systems can be a significant help here, by not only recommending solutions to emerging issues, but by autonomously executing them when they fall within pre-configured guardrails.
With the right Control Tower properly implemented, companies can gain foresight, mitigate risk, and increase the overall resiliency of their supply chains.
About the Authors
PKS Prakash, PhD is a principal at ZS Associates; he designs and implements advanced data science and AI techniques across multiple verticals including healthcare, hospitality, retail, and manufacturing.
Arun Shastri, PhD leads ZS's global AI strategy practice, which spans research, helping clients build their capabilities and platform solutions. In this role, he also oversees analytics services and solutions for several industry sectors.
---
Recommended Posts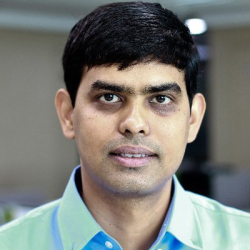 Latest posts by Prakash Prakash
(see all)