This post has already been read 7066 times!
What are the key challenges in the automotive industry right now, and how can we tackle them? Chris van der Harst shares what he learned at the Automotive Logistics & Supply Chain Conference.
I recently attended the Automotive Logistics & Supply Chain Europe 2023 Conference (ALSC) in Germany. Resilient Today, Fit for the Future, the event's slogan, hit home with the audience and speakers alike, who offered amazing insight that brought the agenda to life for us attendees. 
Conversations during these three days covered a wide range of topics, but they mostly centered on three key ideas: partnerships, long-term sustainability objectives, and operational excellence.
"There is broad agreement in the automotive sector, on how the market must unite and function as a more cohesive ecosystem. The challenge is about how we do that. Today we have the technology to do just that." -Chris van der Harst
Click To Tweet
There appears to be broad agreement in the automotive sector that the market must unite and function as a more cohesive ecosystem. The desire to redesign the entire network is partly motivated by sustainability goals, but evolving delivery models like direct-to-consumer (D2C) are further driving the need for change.
Organizations are still focused on driving operational excellence in the short term, and many OEMs are inviting partners to collaborate on projects that will improve overall supply chain resilience and agility. To achieve these goals, however, a new automotive network needs to be the long-term focus.
The Top Challenges in the Automotive Supply Chain
The semi-conductor crisis is not over. Significant shortages over the last few years have left a lasting impact, and will not be overcome any time soon. While companies are investing in new chip factories, these are massive and long-term investments that will pay off, but it will be years out. In addition, automotive OEMs lack visibility into the product mix. And, the automotive sector is competing with demand from other industries.
Transportation capacity is tight. This issue is almost as bad as the semi-conductor crisis. Companies are struggling to deal with a lack of trailer capacity. That does not look like it will ease up for about another couple of years. The driver shortage remains a major challenge, and there is evidence to suggest it may worsen in the next few years. While rail offers low-cost and reliable service, it too is constrained by lack of infrastructure and capacity. Finally, there is the shortage of vessels which continues to be a major challenge. This will not be fixed anytime soon either, due to the long lead time for vessels.
Sustainability is becoming more important. Sustainability is already driving many decisions, and this looks like it will continue to be a major priority.
The big question is: how do we solve this myriad of challenges?
Meeting the Supply Chain Challenges in the Automotive Industry
In my conversations with many people at the conference, and in my own sessions with leaders in the automotive space, I think there is widespread agreement on a few strategies that must be pursued.
"There are three or four key elements the automotive industry must incorporate to meet today's challenges. The first is full digitization of the automotive network."
Click To Tweet
Digitization of the automotive network. And by this, I don't just mean digitizing your operations, but digitizing your entire supply network. This means bringing your trading partners along with you. It doesn't matter how agile and responsive you are, if your trading partners can't keep up. The industry recognizes this need for a more unified ecosystem approach, and today we have the technology to enable it. So, digital supply chain networks are key. They connect all parties to a single version of truth, through a single connection to the network. This network enables visibility and collaboration, but also empowers the AI to scout for, report, and resolve issues wherever they may be, across all trading partners and tiers of the supply chain. This will help companies in striving for operational excellence, and can help companies track sustainability related issues such as labor practices, carbon emissions, and other processes and KPIs that span supply chain partners.  
Planning needs to improve dramatically. It needs to start earlier and needs to be more cooperative, including all key trading partners. What's the use of planning when your suppliers and partners cannot fulfill your demand? Ideally, planning should also be married to execution, in one system. This will enable planning over long- and short-time horizons, and allow the plans to be incrementally updated as needed as execution unfolds and issues arise. This will keep plans realistic and executable and the supply chain far more agile and resilient.
Technology must be leveraged. No technology is a silver bullet, but there are many technologies that can help deliver the efficiencies, agility, and resilience that we seek. In particular AI and machine learning need to be incorporated into the supply chain, and not in functional silos, though it can help there, but across the supply network where many vulnerabilities lurk.
Control towers must exert control. Control Towers can play an important role, not merely in providing visibility, but in enabling execution. A network-based control tower offers both wide-ranging visibility across the network, while enabling execution. It unifies planning and execution, and serves up AI identified and predicted issues in a user-friendly manner. Smart control towers also provide autonomous execution of prescriptive solutions (within pre-configured guardrails), taking much of the burden off of planners. The immense scalability of autonomous AI on a network means AI can keep companies ahead of the multitude of often trivial issues, where users handling them manually would be overwhelmed.
While there are still significant challenges ahead, I think we finally have the technologies and tools to overcome many of them. We can at least plan more intelligently, more collaboratively, and execute more effectively, by taking an ecosystem approach and making everyone aware of the resources and constraints that we must work with.  
If you liked this post, you will probably enjoy 8 Key Strategies Leading Automotive Companies Are Deploying
---
Recommended Posts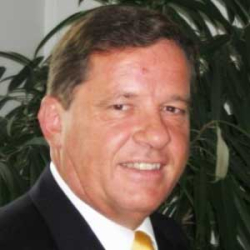 Latest posts by Chris van der Harst
(see all)