This post has already been read 14178 times!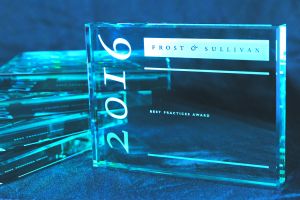 There are some valuable takeaways from the Frost & Sullivan's Best Practices Awards. 
Frost &  Sullivan's Best Practices Awards are held annually and recognize companies for superior leadership, technological innovation, customer service, and strategic product development. The awards are conferred upon companies around the world and across a diverse range of industries.
Frost & Sullivan presents the awards "to companies that are predicted to encourage significant growth in their industries, have identified emerging trends before they became the standard in the marketplace, and have created advanced technologies that will catalyze and transform industries in the near future." The goal is to "drive innovation, excellence and a positive change in the global economy by recognizing best-in-class products, companies and individuals." (Source: Frost & Sullivan)
Past winners of the awards include HP, Intel, General Electric, Honeywell, Bendix and Verizon.
Winners are selected based on how they exemplify best practices in their industry. Frost & Sullivan's industry analyst team benchmarks market participants and measures their performance through independent, primary interviews, and secondary industry research in order to evaluate and identify best practices.

This year One Network is honored to be included in the Product Leadership category for Supply Chain Management for Public Sector and Defense. I wanted to share some highlights from the award report that provide insight into the problems and solutions companies face in today's market.
The Market Challenges
Frost & Sullivan sees an urgent need for companies "to improve their customer service, working capital and cash flow, operational efficiency, profitability, and market share. Along with this, companies report to Frost & Sullivan how they are also focusing on reducing inventory levels, eliminating supply chain disruptions, and reducing Information Technology (IT) costs, with a view to transform and accelerate their business operations amid changing market demands and rising competition… The lack of a seamless operation among many of the service arms and agencies tends to directly affect optimal financial performance; Frost & Sullivan notes that it also hinders the ability to identify growth opportunities and reduce incurred costs."
(Source: 2016 Best Practices North American Supply Chain Management Product Leadership Award, Frost & Sullivan)
It is these challenges, certainly not unique to the public sector and defense industries, that can only be solved by flexible technology that embraces the reality of today's global, multi-enterprise, multi-echelon world.
Meeting the Challenges: The Network Approach
Frost & Sullivan firmly believes the vendor that can "effectively address these prevalent challenges with a multi-enterprise and multi-echelon solution will secure a leadership position in the North American supply chain management market." (2016 Best Practices North American Supply Chain Management…)
With all parties on the same network, with total visibility and integrated planning and execution, the advantages are compelling. "The substantial increase in the volume of actionable insights available to customers using One Network's Real Time Value Network™ solution for effective planning and optimization provides users with better demand visibility, control, and execution abilities."
It's these advantages that the United States Marine Corps (USMC) enjoys, using One Network's platform to manage their global ammunition, including small arms, artillery, tank ammunition, missiles and rockets.
Embodying the "seamless integration" theme, One Network integrates with a multitude of internal and external legacy systems, including 192 MILSTRIP and MILSTRAP message sets. It provides inventory visibility into 124 sites around the world, manages $8.04 billion worth of inventory, and has reduced transaction error rates dramatically, from 64% down to 0.3%.
A many-to-many and multi-echelon network is a proven solution to the problem of fragmented legacy systems and managing multi-party processes such as are common in supply chain management. It's an option that companies should carefully consider.
If you're interested in learning more about the challenges you need to overcome to proper in today's economy, and the kind of technology that can embrace today's distributed and complex business relationships, I recommend reading the full Frost & Sullivan Award Report. You'll get a clearer picture of today's challenges and the best way to solve them. I'd also recommend reading Supply Chain's New World Order which addresses the new realities of today's economy and the necessity for a new model for supply chain management.
Latest posts by Melis Jones
(see all)