With the mid-year upon us, it's time to review what people are reading. Don't miss The Most Popular Posts of 2018 So Far Part 2.
Top 10 to 6: Most Popular Posts of 2018
| | | |
| --- | --- | --- |
| 10 | Control Towers offer many benefits to companies managing complex supply chains, from visibility to advanced predictive and prescriptive analytics, and autonomous agents. Take the Control Tower Quiz to find out where you are in your journey. | 1298 |
| 9 | Whoever said disruption is a bad thing likely never thought about the proverbial "light at the end of the tunnel". Why disruption offers companies a fantastic opportunity. | 1404 |
| 8 | 400 million patient packs, billions of scans, counterfeits, complex global supply chain and poor infrastructure.  How a leading logistics provider conquers the challenges with a network control tower that provides visibility and control. | 1481 |
| 7 | Retailers are under pressure on a number of fronts. Three big threats retailers should address. | 1615 |
| 6 | Nearly every business moving significant amounts of products needs a TMS. Ten ways a TMS can help your business. | 2251 |
Don't forget to check out The Most Popular Posts of 2018 So Far Part 2.
---
Recommended Reading
Blockchain in the Supply Chain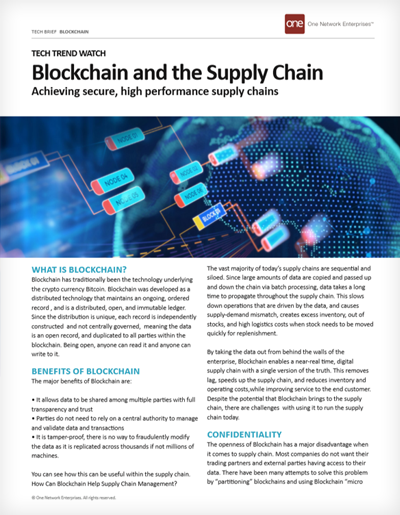 This tech brief explains what Blockchain is and the unique advantages it provides to the supply chain. Learn how Blockchain can help deliver a more secure and high performance supply chain. Download:
Blockchain in the Supply Chain
The Network Effect highlights important issues in business strategy, technology and trade.