This post has already been read 2551 times!
Modernizing the Naval Operational Supply System with a digital supply chain network
In a previous article, I covered why we should treat the defense supply chain as a network rather than a chain. In this article, we'll look at the benefits that accrue from that approach, and in particular, we'll look at how this would play out in the example of the United States Navy.
Modernizing Defense Supply Chains: The U.S. Navy's NOSS
The Naval Operational Supply System, NOSS, is the U.S. Navy's future end-to-end supply chain management solution to support the Naval Operational Forces including Maritime, Aviation, Expeditionary and Shore Support Units.
NOSS has the potential to radically improve the Navy's supply chain operations, enabling more agile and rapid deployments and more effective Naval support to operational forces.
However, as it is, NOSS is depending on legacy Business Logistics Applications that are disconnected or siloed with no integration.
Data has to be aggregated together from various systems to get to some type of single version of truth.
Today, it requires immense resources and considerable time as numerous organizations scramble to decipher and understand data from various sources before being able to make informed decisions.
Despite these efforts, the data is often stale, contains errors, and the insights gleaned may no longer be valid.
In addition, this siloed approach has other drawbacks, for both legacy and ERPs, including:
Current systems were not designed to support Defense in many aspects, including disconnected, multi-tier and defense specific law, regulation, policy, mandate, process and data models
They require significant custom code with separate support agreements from the software vendors
The different vendors need everyone to adapt to their integration specifications and therefore these systems do not easily co-exist with, and effectively control legacy solutions
Systems are inherently siloed and customized, inhibiting the defense ecosystem from effectively benefiting from capabilities deployed by other services
Once modules are modified, upgrades become difficult, time-consuming, and expensive, leaving you on old releases and with significant additional costs
NOSS has the potential to radically improve the Navy's supply chain operations, enabling more agile and rapid deployments and more effective Naval support to operational forces. Here's how it changes defense supply chains…
Click To Tweet
NOSS with a Network Approach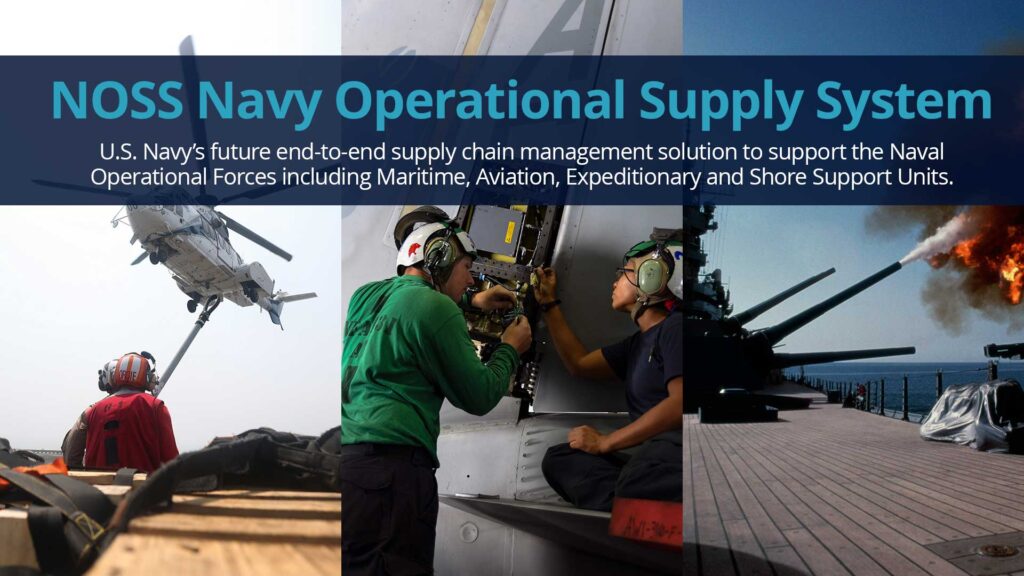 This all changes with NOSS leveraging a network approach, where all supply chain activities are driven by a single data model underlying a digital supply chain network.
In this situation, the NOSS solution is delivered on a network platform and supported as commercial off-the-shelf (COTS).
This approach sidesteps the pitfalls of separate systems.
For example, unlike traditional solutions, this NOSS solution will never go legacy, guaranteeing the Navy a future-proofed solution that supports the 2030 and 2040 US Navy visions. They will be able to keep pace with both commercial innovations and modernizations as they choose. The Operational Navy also has a powerful set of tools and capabilities that can be used to expand capabilities across other broader areas of the Navy that further leverages their investment. And the network platform provides the organization with powerful new capabilities, including:
Navy-wide real-time enterprise visibility on shore and deployed afloat
Global integration both internally and with major mission partners
Planning based on real-time information, then rapidly executed on the same system for unprecedented agility and effectiveness
Standard business processes across all commodity groups and supply classes. NOSS will be the first supply class-agnostic solution in the Department of Defense across all Strategic, Operational and Tactical tiers, driving efficiencies from the Deckplate to the Enterprise.
NOSS means no more "swivel chair" system-hopping. Intelligent control towers provide prescriptive analytics and AI-based support for enhancing the Navy's overall mission success. Analytics and alerts at all levels enable the execution of plans at the touch of a button for quick and effective execution
Global sourcing in real time eliminates critical stockouts, assuring supply, and enabling operational readiness
Defense Supply Chain Network for Naval Operations: The US Navy's NOSS program will provide the Navy with end-to-end real-time visibility and actionability across all Naval supply chain operations…
Click To Tweet
A Defense Supply Network That Adapts to Future Needs
In short, a network platform for NOSS will embrace and unify disparate legacy systems, while adding new intelligent capabilities that provide real-time insight into Navy-wide operations.
It will alert users with early warnings to help preempt and mitigate problems with AI assistants that provide rapid and practical resolutions that span all functions and parties.
It will enable operational readiness and maximize the effectiveness of the Navy while adapting to ever-changing needs through continuous innovation and modernization on a never-legacy platform.
For a deeper dive into how a digital supply chain network impacts the Navy's food service management supply chain, I recommend reading US Navy's NOSS Program and the Future of Food Service Management.
---
Recommended Posts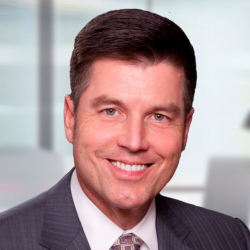 Latest posts by David Stephens
(see all)