This post has already been read 1691 times!
What the future of food service management in the US Navy will look like when powered by a digital supply chain network
Let's see how a modern food service management system works in the commercial sector. Then I will show how that plays out in the Navy's NOSS program. (For insight into the wider impact of a digital supply chain network for the Navy operations, see David Stephens on Defense Supply Chain Network for Navy Operations.)
A Digital Supply Chain Network for Food Service Management
Implementing a digital supply chain network for food service management has significant advantages over traditional supply chains run with ERP, portals, and siloed systems.
A digital supply chain network connects all parties in the food supply chain, from the farm to the shelf. All parties share a real-time single version of the truth, meaning that they are instantly aware of any changes in the supply chain that impact their business.
The network communicates, say a late shipment, and what it means downstream to the food distributor, to the store or restaurant. They can see which orders are impacted. It also takes into account demands at and from each restaurant and ensures that the right food preparation items are where they need to be, whether they are sourced locally or from regional, national or global food distributors.
The Navy's NOSS Program and the Future of Food Service Management – a deep dive into how food service management is transformed with a digital supply chain network…
Click To Tweet
The digital supply chain network is a true supply chain network. It takes latency out of the supply chain and makes each party far more agile and responsive to changes such as demand shifts, supply shortages, and logistics issues.
Digitizing the supply chain processes and integrating them via a single data model streamlines the supply chain, using a single demand forecast and propagating it upstream, translated into meaningful units for each tier. This enables the supply chain to function with more accurate data and without latency.
This improves nearly every process in the supply chain, including forecasting, procurement, planning, inventory management, and distribution.
As a result, all parties in the food service supply chain see increased efficiency, reduced costs, enhanced visibility, and each can better respond to meet customer demands.
Let's look at a specific restaurant company and their results.
They are a global restaurant company with multiple chains worldwide. They faced challenges such as inaccurate forecasting and inefficient inventory management. These issues resulted in excess waste and stock outs that negatively impacted operations. To overcome these challenges, the company adopted this digital supply chain network solution.
With real-time visibility into demand patterns by integrating data from various sources like point-of-sale systems and suppliers, you get more accurate forecasting which helps optimize inventory levels and prevent stock outs as well as overstocking.
How a single data model using a single demand forecast propagated upstream radically improves nearly every process in the supply chain… | The Future of Food Service Management in the US Navy
Click To Tweet
A digital supply chain network also enables collaboration with suppliers across any tier and uses automated purchase orders based on real-time demand data.
Production planning is improved because it has access to accurate demand forecasts along with real-time inventory data, and thus supplier production schedules can be optimized for maximum efficiency.
Distribution processes are streamlined through improved coordination between warehouses and transportation providers. Route optimization algorithms ensured timely deliveries while reducing transportation costs.
Thus, by embracing digitization in their supply chains, companies in the restaurant industry can achieve greater operational efficiency while meeting customer demand more effectively and efficiently.
How Food Service Management Works in a Network-powered NOSS Program

All these benefits we see in the commercial sector with One Network's platform can be realized in food service management with the Navy's NOSS program.
One Network provides a unique approach to solving all the Navy's supply chain issues by providing a secure platform that allows adoption of all commercially deployed capabilities through configuration (not customized RICE or ABAP code) and is supported as a commercial off-the-shelf (COTS) implementation. Warehouses can be fixed or mobile (ship or submarine), suppliers can be regional, national or global, and full visibility and planning provides benefits across the operational Navy's entire enterprise.
1. NOSS enables full visibility and capability to implement Food Service businesses across the entire NOSS enterprise.
Food service managers will have full visibility and enterprise-wide implementations of policies, menus, catalogs, and campaigns such as All Food Acts and messages. This will aid in better logistics planning, execution and faster and more efficient supply chain decision-making.
2. NOSS captures demand data of historical consumption and orders.
This can be used for food service cargo inventory load limit analysis, menu acceptability analysis, demand forecasting, subsistence ordering, and stock replenishment. A capability that can be done on the enterprise level as well as the Type Command (TYCOM) and unit levels.
3. NOSS will simplify and streamline the current subsistence ordering process.
Using One Network's NEO Platform, the NEO engine can automatically create replenishment recommendations based on demand-driven pull and weekly Prime Vendor catalog and CLF 9M cargo load availability. It will automatically convert the weekly changes to the Food Item Codes, catalog items, unit prices, and Unit of Measure for accurate ordering. Upon receipt of requisitions, NOSS will send the appropriate messages to DFAS for payment.
4. NOSS will improve overall inventory accountability based on receipts, returns, historical and actual consumption and inventory maintenance.
From menu prep to consumption, the Navy's Operational Fleet can expect an integrated approach to end-to-end food service that maximizes satisfaction deployed while maintaining complete auditability.
5. Improves day-to-day Food Service Operations.
NOSS will have the capability to set up functional dashboards based on user roles, permissions and tasks. Users will have real-time insights into the exact status of their inventory, orders, shipments, in-transit items, etc. Any menu-prep or recipe changes can be quickly assessed, and any issues resolved throughout the Operational enterprise.
The NEO Platform includes the NEO AI assistant which alert users to potential issues and provide practical recommendations for resolving them. NEO can operate autonomously within preset "guardrails," fixing minor issues such as re-ordering, rescheduling and available substitutions. This means smoother operations, with users focused on high value tasks rather than "firefighting."
Better Food Service Management with NOSS
In short, NOSS powered by a digital supply chain network enables full visibility and implementation of food service businesses across the entire Navy's Operational enterprise.
It captures demand data for analysis and forecasting, simplifies the ordering process, improves inventory accountability, and provides Sailors and Marines world class meals. It also improves day-to-day operations by providing real-time insights into inventory status and when product will arrive, with AI assistants on alert and helping 24/7.
And a well-nourished Navy is a more effective fighting force.
If you want to know more about how a digital supply chain network transforms defense supply chains, I recommend reading Defense Supply Chain Networks for Naval Operations.
The Navy's NOSS Program and the Future of Food Service Management – How food service management is simplified and streamlined with a digital supply chain network…
Click To Tweet
---
Recommended Posts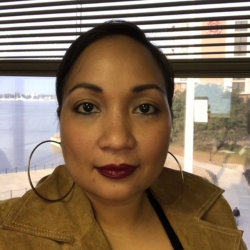 Latest posts by Ria Rhodes
(see all)