This post has already been read 11995 times!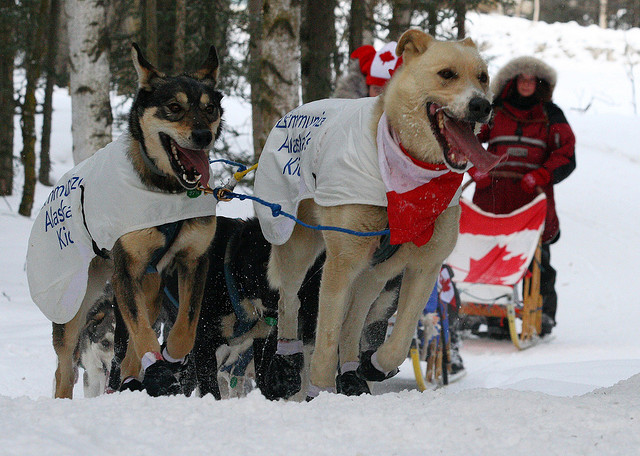 There's a saying, "you can't teach an old dog new tricks".  But if you were one of Susan Butcher's dogs, you'd beg to differ.
Susan Butcher was a dog lover, enthusiast, trainer, and racer.  Not just any racer, but a competitor in the famous Iditarod dog race. The Iditarod dog race is a grueling, 1150 mile dog-sled race through the fierce Alaskan terrain, from Anchorage to Nome.
The Iditarod was, for years, dominated by men.  Strong men.  Tough.  Rugged.  Men who treated their dogs like the harsh elements of the race.  Yup, like crap.
The conventional wisdom for winning the Iditarod was to run your dogs to near exhaustion, 11-12 straight hours, then stop, fuel and rest up, then do it all over again the next day.  Repeat until you reach the finish line.
Susan, however, didn't follow conventional wisdom.  She believed there was a better way.  A way that treated her dogs in a more human-like manner.
Her view was that dogs, like humans, would perform better if they were trained and nurtured all year long, not just the weeks leading up to the race.  She was convinced that her dogs should be fed only the highest quality nutrition – again, all year round.
And finally, she knew instinctively that her dogs would perform better by running in shorter spurts, followed by short rest periods and nutrition – rather than driving the dogs to complete exhaustion every day.
When word spread of her unconventional training methods and race strategy, she was ridiculed. Laughed at. Taunted and dismissed.  She was a fool and had no chance.
Undaunted, Susan Butcher would use her unconventional methods to dominate the Iditarod like no other competitor.  She would become only the 2nd women to win and won three consecutive Iditarods and 4 out of 5 races in the mid 1980's.
What's even more impressive is that Susan's methods, while initially scoffed at, would become the norm for serious Iditarod racers going forward.
Susan's story is not only inspiring, it's instructive.
As proponents of Flowcasting, we know how Susan felt.
When people realized that the Flowcasting approach is founded on creating only one forecast, by item, by store, and calculating all other demand, supply, capacity and financial projections, guess what?  People laughed.  Said you couldn't create a decent store level forecast. Couldn't process the volumes.  Said it would never work.
But, like Susan, we pressed on.  And today, it's been proven by a number of early adopters and is becoming the new accepted approach for planning the entire retail supply chain in a single, elegant, seamlessly integrated solution.
Supply chain planning has lots of old dogs (in terms of thinking, not necessarily age) doing things the way they've always done them – mostly trying to apply new forms of analytics to the wrong question.
Don't you think it's time to teach these old dogs new tricks?
Latest posts by Demand Clarity
(see all)