This post has already been read 3594 times!
The pandemic and trade disputes have aggravated many supply chain challenges and introduced new ones… and have increased the pressure on companies to modernize and innovate in their supply chains.
As executives and supply chain practitioners are all too aware, global supply chains and trade have been in turmoil. And just when we thought trade was stabilizing, COVID-19 hit, and delivered a knockout blow to many staggering supply chains. Since early in 2020, the outlook over the longer term looks increasingly unpredictable. This makes it imprudent for companies to pursue a singular strategy that assumes a particular outcome, such as favorable terms with a particular supplier, favorable trade relations with a particular country, or assumptions about the pandemic.
Rather, businesses need to adopt a change-oriented mindset, prepare scenario-based plans and playbooks for multiple outcomes, along with adaptable processes and the enabling technologies to execute them. In other words, now is the time to modernize and optimize for uncertainty.
As one of our customers recently said, "Because of COVID, what was fragmented becomes more willing to link up. What was difficult becomes possible."
Turbulence and Uncertainty in Global Trade
Currently, businesses are buffeted by a variety of forces, domestically and globally, and there's no end in sight. Whether it's the pandemic, the U.S.-China dispute, UK's Brexit, the EU and U.S. investigating tech giants, Europe's faltering growth, currency swings, or some variant of the above, it's clear that the business climate is more unpredictable than it has been in a long time.
Yet there are also some positive signs that could facilitate trade and stabilize geo-political expectations and future relations. New infrastructure projects and trade agreements are being negotiated in Asia (RCEP), Europe, Africa (AfCFTA), and South America (MERCOSUR) that could have a significant impact on international trade and supply chains in the future.
All these factors exert enormous influence over businesses and their supply chains, dramatically impacting sourcing decisions, market opportunities, partnerships, competitiveness, and long-term growth and profitability.
The Impact on Global Supply Chains

In the wake of these disruptions, supply chains are right in the middle of the turmoil. Careful strategic decisions about markets, sourcing and distribution that have driven a business' long-term plan are now uprooted and in doubt. New tariffs, regulatory changes, or regional economic shifts are changing the basic economics of many established plans, casting doubt on previous decisions and future plans. Worse, they often "de-optimize" the supply and logistics network, leaving companies working with less than ideal customers, business partners and logistics lanes. This undercuts margins and profitability, making companies more vulnerable to competition, and to natural and economic disruptions. It also changes the competitive landscape both at home and abroad.
"More than 70% of procurement and supply chain professionals say their organizations will make major changes to their supply chain strategy in a post-pandemic world."

Report: Seismic Changes Ahead for Global Supply Chains
In response to the trade and tariff uncertainty, some companies are holding inventory in their countries of origin to avoid paying tariffs. Others are importing as much as they can to beat expected tariffs and mitigate the effects of other possible impacts in the future, while some are considering alternate sourcing and rerouting shipments through other countries. Recently, a board member of a manufacturing company told me that they are seriously considering moving manufacturing from the U.S. to their destination market, in order to avoid tariffs on that end and remain competitive in their key market.
Pressures for Warehousing and Distribution
These kinds of responses to trade wars and tariffs have a major impact on warehousing and distribution networks. The pandemic has only amplified the uncertainty, throttling the demand on some products and services, while boosting it on others. The pandemic has disproportionately affected many businesses, and questioning their (and their suppliers) future viability and reliability.
Warehouses operate as "shock absorbers" in the supply chain, holding safety or buffer stocks to "ride out" periods of volatility and uncertainty in both demand and supply. They enable a company to supply products to customers, even when demand and supply are highly variable.
But this entails additional costs and risk, and ties up working capital in inventory.
The immediate effect of the proposed tariffs and trade disagreements signal higher prices and increases uncertainty. This stimulates companies importing goods to boost orders and stockpile inventory, in order to minimize the effects of the upcoming tariffs. Their supply chains often operate at near maximum capacity, with agile businesses trying to move their goods as quickly and efficiently into their warehouses closest to their customers. On the export side of the equation, the manufacturers and logistics providers are under pressure to meet this increased demand.
Recommended: Master Your Supply Chain with an Intelligent Control Tower
However, over the longer term, companies will need to adjust strategic plans to account for the new economic realities that trade wars engender. Importers bearing the higher prices, will need to review current operations and future plans, and evaluate them in the light of shifting incentives and penalties. They will need to look at all their available options for cheaper alternatives in sourcing, manufacturing capacity, warehouse capacity, and logistics partners. Businesses in exporting countries also need to consider that they may lose these customers and may have to seek out new customers, new markets and others may have to reevaluate product lines and even business models.
And of course, the pandemic adds another layer of variables, complexity and risk.
In this environment of uncertainty, volatility and shifting alliances, companies and supply chains that are engineered for speed and agility will win. Companies that can identify trends early, adapt quickly, reconfigure supply chains, and effectively embrace new trading partners, will have a major advantage. In order to capitalize on this, they will need to establish secure but flexible trading relationships, with shared work processes, communication, business rules for exception handling, and effective master data management, so all parties are working from a single version of the truth. Even the domestic supply chain structure may need to change in response to shifting entry points, volumes and lead times.
Modernization is Well Overdue
Most multi-national companies have been around for decades, and that means that for most, their technology is rooted in siloed, functional systems like enterprise resource planning (ERP), manufacturing resource planning (MRP), transportation management systems (TMS), and similar function and company-centered systems. In today's world, where companies need to switch or find alternate suppliers, new logistics partners, and even new markets, this approach is no longer satisfactory. As professor Jonathan Byrnes at MIT has said, "Many supply chains are perfectly suited to the needs that the business had 20 years ago."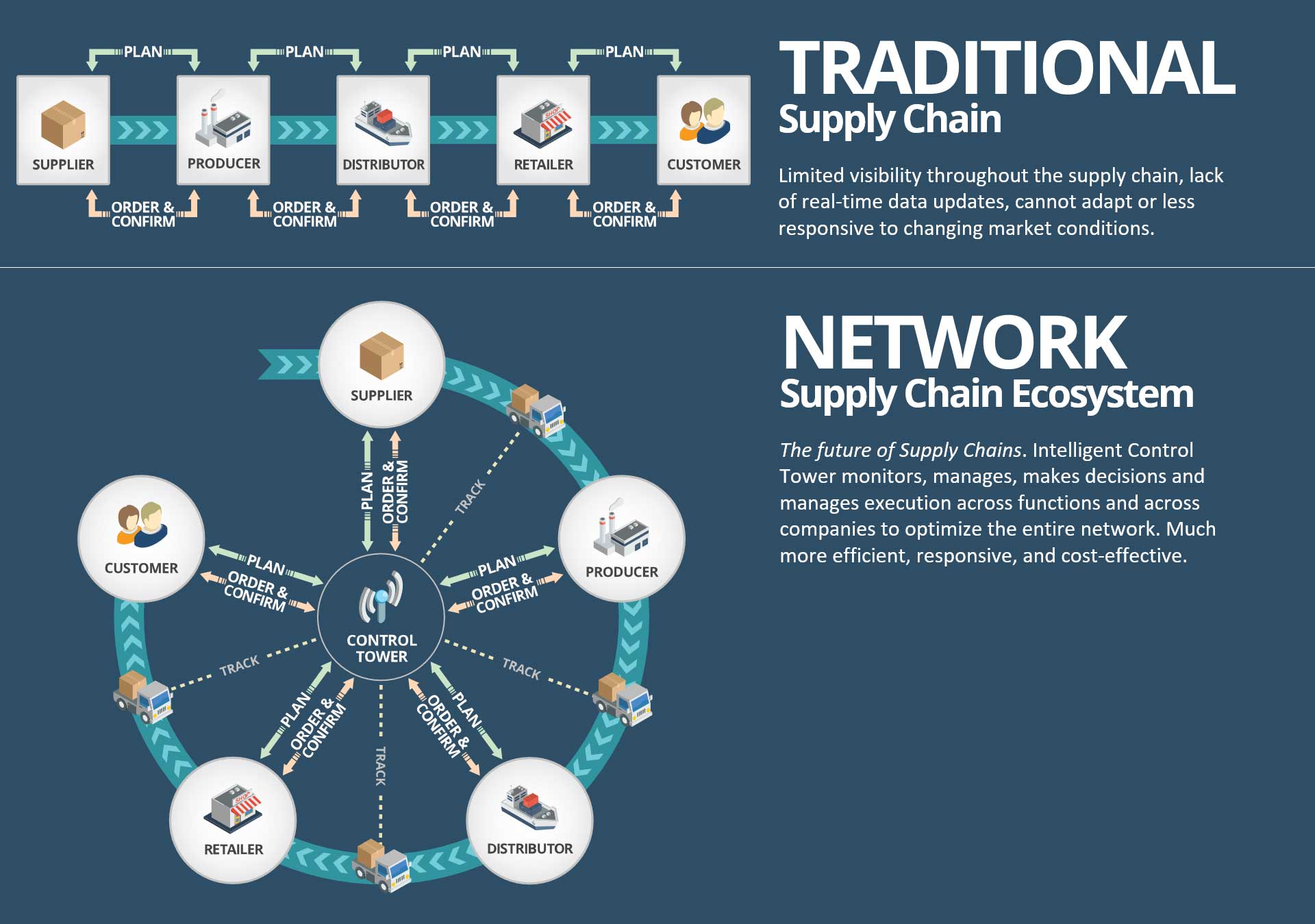 "Many supply chains are perfectly suited to the needs that the business had 20 years ago." – Jonathan Byrnes, MIT
Click To Tweet
However, "rewiring" the supply chain with today's siloed, enterprise-centric systems is a monumental task, involving resource-intense, point-to-point integrations between a whole host of systems and partners. In a Wall Street Journal article, Jacob Parker, vice president of China Operations for the U.S.-China Business Council, said, "Businesses are making arrangements to diversify their supply chain investments away from the China market and enacting other structural changes to account for that. It could take about three to five years to build up the supply chain elsewhere."
Many companies will need to move much faster if they are to retain their competitive positions. Still, some executives are paralyzed by uncertainty and hoping for quick resolution to the disputes and a return to a pre-pandemic life. That seems unlikely, as many of the ramifications of the pandemic play out over time, and echo through the economy.
One source of change and uncertainty is the rise of new technologies such as 5G, additive manufacturing, artificial intelligence (AI), robotics, and augmented and virtual realities. While hugely beneficial, these can quickly give rise to new competitors, partners, and possibilities, and dramatically change an industry's landscape.
Many companies are taking this opportunity of a "pit stop," and accelerating their adoption of new technologies. As an example, the Wall Street Journal reports that Honeywell International is actively looking to invest and acquire companies so it doesn't have to develop the technology itself. Companies that are floundering may lose employees who go on to found new startups that disrupt the incumbents.
With this increased pace of digitalization and companies adopting new strategies and business models pioneered digital natives, the laggards are falling further behind and risk obsolescence. A recent McKinsey & Co report, "Why Digital Strategies Fail", found "only 8 percent of companies said their current business model would remain economically viable if their industry keeps digitizing at its current course and speed." As a result, executives are realizing that they simply cannot wait out the pandemic, trade disputes and other factors in the era of uncertainty.
A Fundamental Shift: Optimizing for Uncertainty
As the Wright brothers were developing the airplane, they encountered a seemingly insurmountable problem in designing a plane that was stable in flight. That's when their experience with bicycles came in useful. They soon realized that perhaps the search for stability was misplaced. Like riding a bicycle, they discovered that a plane could be inherently unstable, yet direction and speed help stabilize the vehicle, and continuous inputs to the controls can cancel out the forces that buffet the plane, resulting in stable flight. This insight forever changed the world.
Today, this is the position many businesses and their supply chains face – an accelerated pace of technological change, impacted by constantly shifting global business variables. Yet standing still, balancing in place, is not a viable option.
Businesses can tackle these challenges on two fronts. First, we needn't tolerate unnecessary uncertainty; businesses should minimize the existing uncertainty in their supply networks. And secondly, they should build a resilient and adaptable infrastructure capable of responding rapidly to shifts in supply, demand and logistics. The accumulation of separate systems over the years is understandable, but has led to a lack of end-to-end connectivity and real-time visibility, along with limited collaboration capabilities. While traditional systems such as ERP, MRP, WMS, and TMS provide vital functionality, these are often weakly connected and primarily centered on the organization.
Weakly connected functional and enterprise focused applications are difficult to connect and synchronize across departments and trading partners. This undermines communication and collaboration across the supply chain.
Click To Tweet
These systems have introduced latency through batch processing to synchronize the various systems – both internal systems and those of trading partners. Batch processing across these linked systems leads to increasingly stale data, which compounds down the supply chain, and contributes to Professor Hau Lee's famous "bullwhip effect." Any information sent upstream or downstream that is subject to delays is affected. It undermines effective decision-making and makes it difficult to effectively plan production, inventory, capacity and transportation. Colleagues and partners across the supply chain have to resort to phone calls and email to try to manage problems that arise. This leads to inefficiencies and higher costs throughout the network.
Siloed systems and their hardwired integrations also create a rigid infrastructure of systems and trading partners, calcified relationships and business processes, which make it difficult for companies to adapt systems to new partners, business opportunities, and workflows.
These silos are difficult and costly to customize, manage and upgrade, and changes to one system can have impacts on other systems. It also means that executives lack a clear, coherent view of their supply chains and the overall business landscape, making it difficult to take into account all relevant factors and plan strategically. Worse, important trends are obscured, making it virtually impossible to identify and react quickly to opportunities and threats.
This makes the supply chain less agile and less resilient to change and disruption.
In part two of this series, we'll explore how you can modernize your supply chain, reduce uncertainty, and become more resilient to changes in your supply chain and endemic to the business environment.
Recommended: Master Your Supply Chain with an Intelligent Control Tower
You might also like…
Recommended Posts
Latest posts by Nigel Duckworth
(see all)