This post has already been read 3019 times!
Adapting to change with fast, efficient and flexible supply chains
In Part 1: Pandemics, Trade Wars and Warehousing, we looked at some of the factors throwing supply chains into turmoil. In this article we'll explore how companies can address and mitigate these supply chain problems.
From Supply Chains to Digital Ecosystems
Legacy enterprise systems have a place, but are problematic as a primary platform for supply chain management. To ensure all parties are in alignment and collaborating for shared objectives, supply chains need to share a "single version of the truth" (SVOT) across all parties and in real time. This enables companies to share vital information rapidly, collaborate when necessary to plan and work together to resolve supply chain issues. It also allows them to identify and respond to risks early, and exploit business opportunities in a rapidly changing trade environment.
"High-growth companies don't go it alone. Increasingly, they are achieving results by creating and orchestrating digitally connected ecosystems — coordinated networks of enterprises, devices, and customers — that create value for all of their participants."

P. Weill and S.L. Woerner, "Thriving in an Increasingly Digital Ecosystem,"
MIT Sloan Management Review 56, no. 4
Multi-party business networks connect all supply chain partners on a single system, enabling data to flow in near real-time from customer demand through all tiers. This real-time supply chain network provides transparency, eliminates information latency and minimizes uncertainty and variability. Using the SVOT, with access controlled by a permissions model, companies can share data with partners as changes occur. All relevant parties can have visibility to demand, inventory, orders, shipments, capacity, and constraints. The network forms a single end-to-end platform for both supply chain planning and execution. This enables companies to embrace the inherent uncertainty and volatility of today's markets, by giving them real-time visibility to supply chain conditions, along with the tools to respond.
This reduces much of the uncertainty endemic to traditional supply chains, that is responsible for the "bullwhip effect" and enables companies to minimize safety stock, inflated lead times, and other defenses against variability.

With all business partners on the same network, planning and executing on the same platform, many complex, cross-functional and cross-company processes can be simplified, streamlined, and even automated. For example, many documents for trade compliance can be created automatically, easing the burden on staff administering the import and export processes. Machine learning (ML) and intelligent virtual agents can monitor milestones and real-time events, and alert users to missing customs documentation, delays that impact milestones, and other issues to ensure compliance.
Recommended: Master Your Supply Chain with an Intelligent Control Tower
With unified solutions like inventory, warehouse, yard, and transportation management all running on the same network, businesses are better positioned to understand real demand and their various supply and logistics options, so they can engage with their partners to meet that demand at the lowest costs. Sharing real-time data across the network removes much of the uncertainty and variability and allows inventory levels to be lowered significantly across the network, sometimes by as much as 30 percent. This relieves the pressure on warehouses and other nodes as well, as companies can leverage the network to make better decisions about where and when to move inventory.
"Sharing real-time data across a supply chain network removes much of the uncertainty, guessing and variability. It allows you to take out safety stock so inventory levels can be lowered significantly, sometimes by as much as 30 percent."
Click To Tweet
If stockpiling is strategically necessary in order to take advantage of market fluctuations or impending changes to tariffs and regulations, or to ensure adequate medical supplies for subsequent pandemic waves, companies can leverage the network to find new partners for storage, distribution and logistics services.
Optimizing for Uncertainty Means Embracing Digital Transformation
Digital transformation is not simple or easy, not even on a network model, but it is easier. To illustrate some of the challenges and complexities, let's turn to an essential foundational element of multi-party business networks, namely the multi-party master data management (MDM). A multi-party network addresses this by bringing all supply chain participants together and providing a shared single version of the truth by harmonizing and mapping data across all parties.
A global supply chain manager for a major automotive company undergoing digital transformation initiative said their major challenge was reconciling the many names for the same suppliers and carriers across their multiple ERP systems. This is a problem shared by business partners on any network model, but there are ways to deal with it. For instance, an MDM solution capable of identifying and managing conflicts, and reconciling them across trading partners enables companies to manage and map data between enterprises, and partners to solve data issues collaboratively. Then, once these relationships are mapped, the system automatically translates these data points and attributes across the network. So if a supplier changes the name of a part, it is automatically translated to its trading partners' systems, there's no need to manually update this information in each system.
Recommended: Master Your Supply Chain with an Intelligent Control Tower
Another major challenge is the cultural shift that needs to occur within a company. Close cooperation between business partners means companies can find and fix problems sooner, cheaper and serve the customer at the lowest total cost. However, many companies hesitate to share much of their information with partners, even though it helps their partners provide them with better service.
"Effective cooperation requires coordinated planning and execution. It presupposes common objectives, a common plan, effective action and shared shared rewards. This is the crucial foundation that a multiparty digital network enables."
Click To Tweet
To help remove this barrier, it is important to measure and focus on the relevant outcomes and mutual progress with partners to help incentivize and facilitate data sharing. It's also important that the responsibility and rewards be mutual. For example, a retailer who shares demand information to help a supplier plan, may in turn earn access to information on the part of the supplier that can help the retailer plan promotions more effectively, based on available supply and capacity.
Sharing data precisely and securely, and only sharing the relevant attributes with a specific role at a partner organization, can help companies feel more confident about sharing data. A powerful but flexible data-sharing permissions framework gives companies fine-grained control over what data is shared and with whom, and can help overcome cultural resistance. Such a framework should enable visibility to some attributes of an order or shipment, by role and by organization. This would allow a carrier to see the quantity of a shipment, but not the price, whereas someone in purchasing could have access to that information. That way, trading partners share information strictly on a need-to-know basis and minimize the risk of confidential information being misused.
Business Transformation is Important and Urgent
Business transformation to real-time digital networks brings with it a host of benefits. From increased agility and speed for all network participants that enable a more sensitive and responsive supply chain, to better decision-making, better balancing of supply and demand, to reduced inventory across the network for all partners. Lower inventory levels are one of the major benefits of real-time business networks, with companies typically reducing inventory levels by 10 to 30 percent.
This has a tremendous impact on the supply chain, meaning less inventory needs to be produced, moved and stored. It relieves pressure on production, logistics, and warehousing. Reducing inventory also reduces the risk of product obsolescence, reduces waste, and frees up working capital. Lowering inventory clears the supply chain and warehouses to better manage the inventory that is moving to markets where it is actually selling, instead of storing product that goes unsold and must be moved or sold at a discount, thereby eroding margins. This network-wide balancing of supply to demand was particularly crucial during the first wave of the pandemic. The lack of network platform with network-wide visibility exacerbated shortages, in cases where there was "invisible," dormant supply elsewhere.
However, the greatest benefit of digital business networks is the fact that they provide a rich pool of potential partners that are readily accessible. Strategically, this means that exploring new markets, suppliers, contract manufacturers, and logistics providers is significantly easier. These networks natively support digital twins and "what-if" scenario analysis, so companies can compare different options, for example, the costs and lead times of using alternative supply locations and logistics providers.
"One of the greatest benefits of digital business networks is the fact that they provide a pool of potential partners, that are already on the network, and can be engaged with a few clicks."
Click To Tweet
But a multi-party digital business network can do it more accurately, using execution data, e.g. telematics, from across the global network, e.g., using actual costs and lead times on lanes and routes, rather than estimates. And once new partners are identified, platform access comes at the cost of a click, rather than needing to go through lengthy and costly physical software implementations that only connect them to individual partners.
This makes companies' business ecosystems adaptable and more agile, and they can be controlled by the business analysts charged with managing supply and demand, rather than involving scarce IT resources. Another vital element of an agile business is the ability to adapt solutions to meet changing business needs and trade conditions, without a vendor's involvement. Instead, companies can use software developer kits to quickly customize and extend network solutions to meet new business requirements, workflows and partnerships that might arise from changing markets, trade regulations and emerging technologies.
Will You Bet Your Success on One Outcome?
Likely not. Digital business networks provide an unmatched platform for not only conducting business, but also responding to the inevitable volatility and uncertainty. They provide an agile and frictionless supply chain platform to support resilient supply chains and evolving partnerships. They minimize costs, even as you execute your chosen scenario options in the face of unpredictable markets and shifting trade alliances. Digital business networks offer a rich platform that helps companies adopt and adapt solutions quickly, keeping enterprises agile despite our uncertain world.
---
You might also like…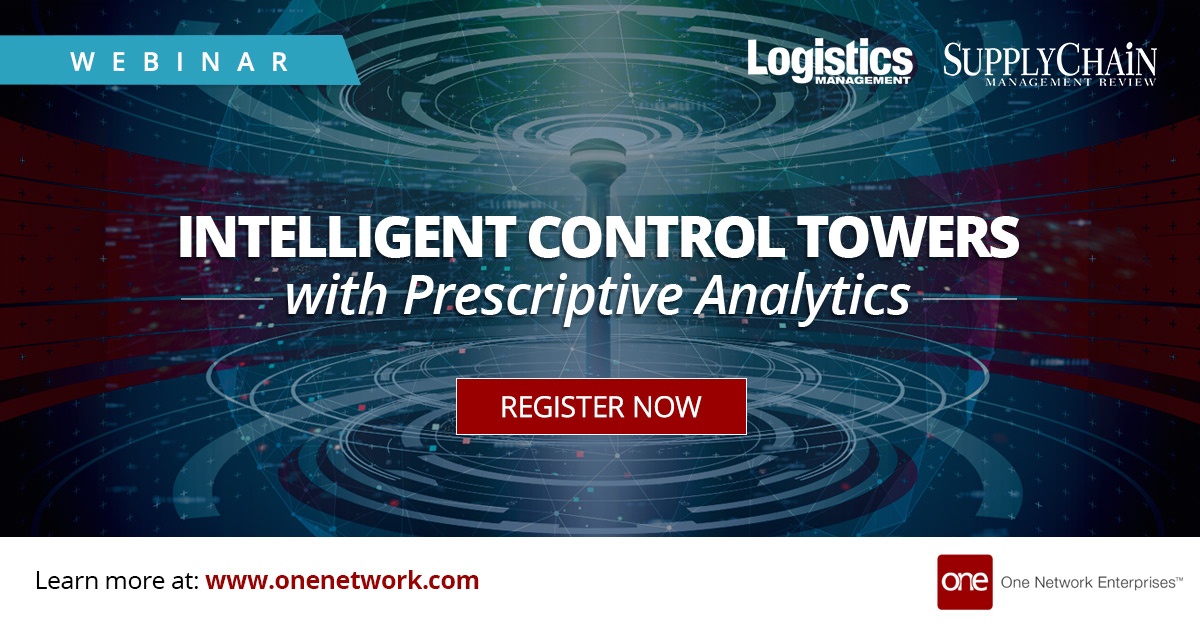 Recommended: Master Your Supply Chain with an Intelligent Control Tower
---
Latest posts by Nigel Duckworth
(see all)