This post has already been read 8771 times!
How brands and producers can leverage the rapid growth of grocery ecommerce.
American consumers are beginning to do more of their grocery shopping online. Grocery is the fastest growing ecommerce category. Grocery is the fastest growing ecommerce category and is expected to reach $100 billion by 2022, according to a report from the Food Management Institute and Nielsen. That's equal to about 14% of total grocery sales in 2018. It is further estimated that almost 70% of U.S. households will be grocery shopping online in 3 short years. Grocery brands and producers need to adapt to the coming ecommerce grocery change.
Grocery is the fastest growing ecommerce category, expected to reach $100 billion by 2022. - FMI & Nielsen @AMZAdvisers
Click To Tweet
The rapid growth of grocery in ecommerce is being driven by changes to the largest platforms. Amazon, Walmart and Target are all competing to capture market share in ecommerce in general, but especially in grocery. They are focused on providing the best and most convenient shopping experience to customers. Each one is rolling out new delivery and grocery options – but are traditional grocery brands equipped to keep up with the pace?
Our experience shows that the majority are not. The new world of ecommerce grocery is about being nimble. Brands need to be less reliant on traditional B2B vendor agreements. Being able to compete in the grocery space on Amazon, Walmart or Target requires B2C fulfillment capabilities. Here are some of the major challenges and solutions for grocery brands that we have seen in our work in this area.
Minimizing Product Waste and Optimizing Inventory
Food product waste is the largest challenge not only in ecommerce, but in grocery in general. Adding in more shipping and delivery on the B2B and B2C side increases the risk of something going wrong. Produce is one of the largest offenders. Each individual fruit and vegetable have their own shelf life and required storage temperature range. This creates a logistical nightmare for grocery brands. Currently the three major ecommerce platforms prevent third-party selling of fresh goods. This can help eliminate a major source of product waste in the grocery industry.
Recommended: 8 Signs Your Cloud B2B Network is Broken
The ideal perishable items for ecommerce grocery fulfillment are High Pressure Processing (HPP) foods and drinks, ready-to-eat meals and frozen foods. We recommend that every product for B2C eCommerce have a frozen shelf life of at least 45 days. Products with a lower shelf life have a higher risk of becoming waste – costing your brand money.
One of the keys to reducing waste it to optimize your inventory placement. We have worked with cold-storage fulfillment networks to aggregate inventory and sales data. Optimizing inventory at distribution centers helps brands maximize profitability in ecommerce grocery. Strong analytics capabilities are vital. Using data to forecast demand and inventory levels required at each fulfillment center is necessary.
Order Fulfillment for Ecommerce Grocery Platforms
Convenience is king for ecommerce grocery sales. That is why the big platforms are trying to provide as much convenience as possible to shoppers. AmazonFresh can make same day deliveries in certain cities. Target has just announced that they can now provide same day delivery across the United States. Walmart's Click & Collect allows customers to purchase online and pick-up curbside. However, these programs are all reserved for vendors to these platforms.
That does not mean that non-vendor brands cannot offer fast shipping themselves. Locating inventory near population centers allows grocery brands to provide extremely quick shipping. Our research shows that it is possible for brands to ship to the entire U.S. in 48 hours – and 60% of the U.S. within 24. Minimizing transport time is key to reducing product waste, thus the optimal location of fulfillment centers is vital.
There are typically no minimum order requirements for Amazon sales fulfillment. Each order is packaged in recyclable and biodegradable coolers. Products need to be cooled with gel packs or dry ice during transit. This ensures that each product is stored at the proper temperature during the entire fulfillment process – from arrival at the distribution center to arrival at the customers' front door.
Distribution for B2C Grocery Fulfillment
Companies without the capabilities to fulfill B2C need to consider using a fulfillment network. B2C fulfillment networks can be extremely cost-effective compared to revamping a shipping department. Selecting cold-storage fulfillment centers near large populations centers allows for the fastest shipping.
To minimize in-transport times, cold-storage networks work differently than the Amazon Fulfillment Network. Amazon will allow users to ship non-perishable inventory to one fulfillment location. Amazon then distributes the inventory to centers across the country based on forecasts. The same is not possible with perishable goods. Increasing shipping increases the risk that something could go wrong with the product.
Each cold-storage client should be sending inventory direct to specific fulfillment centers. This reduces in-transit risk and ensures that the product will maintain its longest shelf life possible. A cold-storage fulfillment network should be able to provide insight into demand and forecasting. This can help brands maintain just-in-time shipments. And that reduces high inventory stock and product waste while maximizing profits.
Brands that do both B2B and B2C business can even utilize these same cold-storage facilities for all their warehousing and storage. Outsourcing all of your fulfillment can be a great way to keep your grocery brand lean and utilize more than one fulfillment channel. We expect that as fulfillment capabilities continue to increase with improved cold-storage networks the larger platforms will be more willing to have vendor relationships knowing that the quality and freshness is guaranteed.
Putting It All Together
Online grocery shopping is growing fast and brands need to change just as fast to keep pace. Traditional vendor grocery relationships for perishable and frozen goods are no longer necessary. Grocery brands can utilize cold-storage fulfillment networks to provide fast B2C shipping. This allows them to completely bypass traditional markets.
Eliminating product waste and costs are some of the great benefits of the new B2C grocery model. In-depth analytics will help brands determine exact production amounts and where the inventory is needed the most. This will further eliminate unnecessary transit times and provide just-in time deliveries to guarantee the maximum freshness.
Navigating the fastest growing ecommerce category is a challenge, but these guidelines will help you make the right choices for your brand – maximizing profits and providing convenience and a seamless experience for your customers.
---
Recommended
Nucleus Research and One Network: How AI Can Transform Your Supply Chain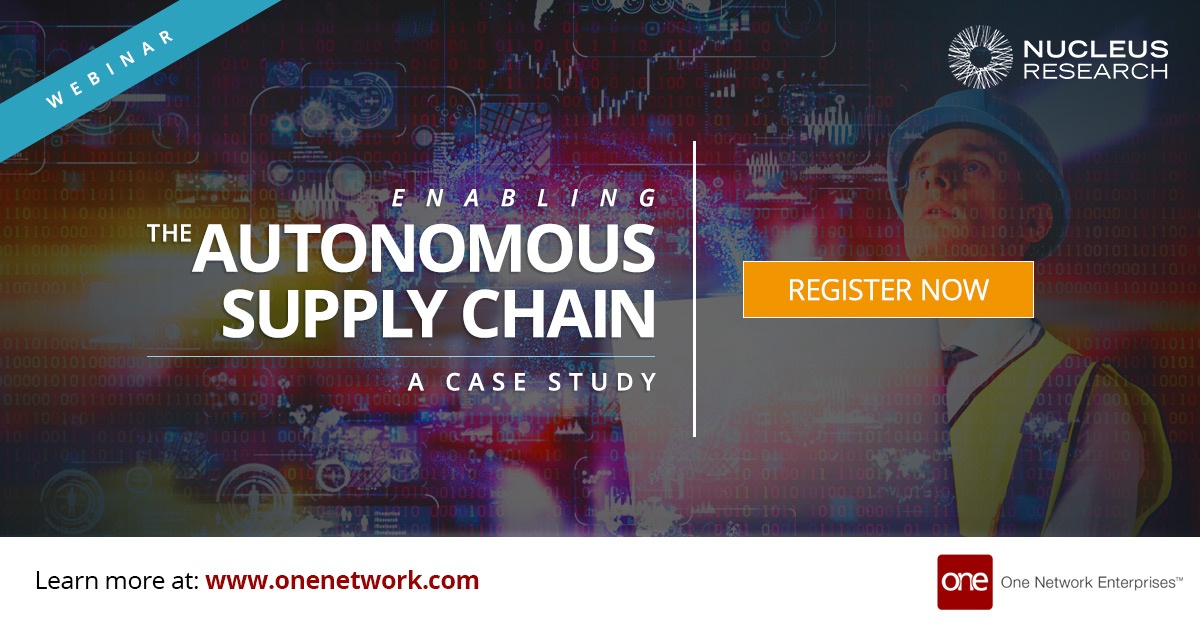 Latest posts by Michael Begg
(see all)