This post has already been read 11968 times!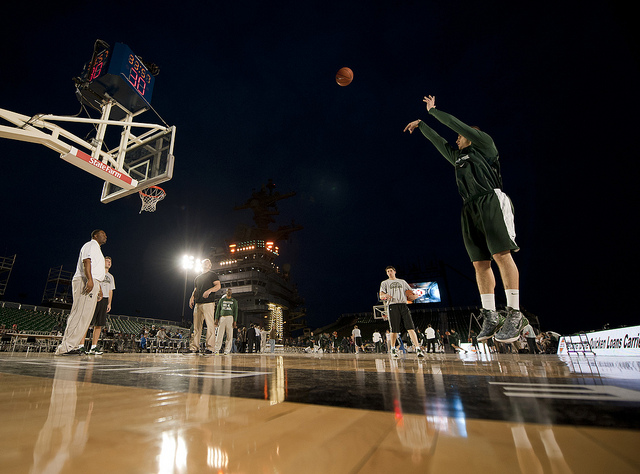 Enjoying March Madness? How is your bracket faring? This week's New York Times has an interesting behind the scenes look at the complex logistics problems that tournament planners deal with. For those of you who work in supply chain management or logistics, much of it will sound familiar:
Behind the madness is a tangled logistical web of moving teams, cheerleaders, bands and administrators, an average of 75 people per program…..When the bracket was revealed March 16, the N.C.A.A. had to figure out how to deliver 68 teams to nine sites around the country and then get them all home, not knowing who was going to win and who was going to lose.
The article reveals that the NCAA buses teams if they are within 350 miles of the playing site. For anything farther, it charters plans, mostly from commercial airlines. Here's where it gets tricky, especially at the beginning of the tournament:
So on Thursday, the N.C.A.A. had to get 32 women's teams to their destinations and retrieve 16 men's teams that lost that day — without knowing which teams would lose and where they needed to go. The same happened Friday.
The itinerary of just a single plane is dizzying:
On Tuesday, it took Wisconsin-Milwaukee to Buffalo, and then flew south to take Pittsburgh to Orlando, Fla. On Wednesday, the plane went to Atlanta to pick up Mercer and take it to Raleigh, N.C. It then picked up North Carolina's team and flew to San Antonio. On Thursday, the plane headed to Shreveport, La., to take the Northwestern State women's team to Knoxville, Tenn., and then hopped over to Nashville to take the Middle Tennessee State women's team to Seattle. Then it headed to Spokane to grab the loser of the San Diego State-New Mexico State game.
Limited capacity, rapid demand shifts,  last-minute changes in supply conditions, seasonality–the NCAA is dealing with the same supply chain problems that SCM and logistics professionals face every day, albeit on a much smaller scale.
So tonight when you're enjoying the games (or cursing your bracket), keep in mind that you're not just watching basketball, you're watching the successful end result of a complex supply chain.
Latest posts by Aaron Pittman
(see all)