This post has already been read 11846 times!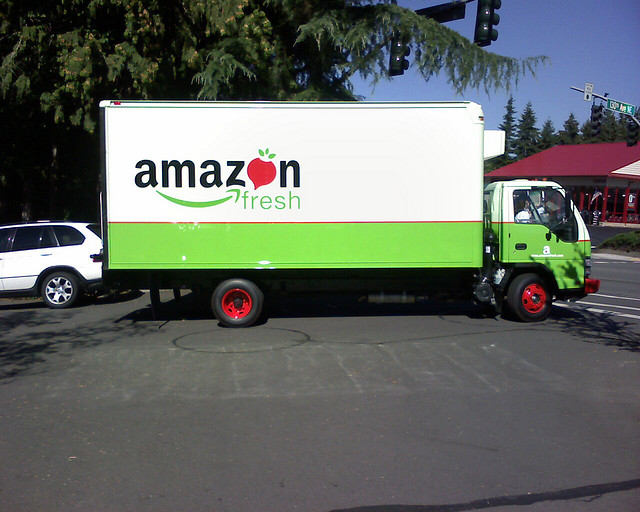 In our previous post we talked about how many analysts are predicting that Amazon will soon offer same-day delivery, and how it's part of a larger push by retailers to own the "last mile" before the product reaches the end-consumer.
Today's Wall Street Journal broke the news Amazon has finally launched its own delivery service:
Amazon is testing its own delivery network for "the last mile," the final leg of a package's journey to consumers' doorsteps. Trucks loaded with Amazon packages and driven by Amazon-supervised contractors leave this parking lot for homes and offices around San Francisco. Similar efforts are under way in Los Angeles and New York….

Just as important, the new delivery efforts will get Amazon closer to a holy grail of e-commerce: Delivering goods the same day they are purchased, offering shoppers one less reason to go to physical stores. With its own trucks, Amazon could offer deliveries late at night, or at more specific times.
Why not just continue to rely on carriers with existing networks, like UPS and FedEx? One reason that Amazon recently revealed in an earnings call is that its shipping prices have increased dramatically:
Shipping expenses: The cost of doing business with UPS, FedEx, and the Postal Service continues to rise, as more Americans shop at Amazon. Investors will look for any signs Amazon has contained its delivery costs, which have jumped 66% in the past two years.

A deal Amazon inked with the Postal Service last year to begin Sunday deliveries could add to its shipping expenses, particularly as the program expands to more cities in coming months.
Of course, UPS and FedEx have massive distribution networks and decades of expertise. It's not a guarantee that Amazon will be successful:
Amazon's in-house delivery efforts have experienced hiccups. Online forums in the U.K. are rife with customers reporting missed, late or inaccurate deliveries. Several packages shipped to The Wall Street Journal's San Francisco office assigned to "Amazon Logistics" arrived several days after their guaranteed delivery dates. Customer-service representatives said that because the division is new, it is more difficult to track packages.
Still, chalk this up to yet another reason why today's retailers and manufacturers are all watching Amazon  closely, and are interested in offering same-day delivery themselves.
If you're interested in learning even more about same-day delivery, check out the whitepaper The Next Big Battleground for Retailers.
Latest posts by Aaron Pittman
(see all)