This post has already been read 1454 times!
One of the industry's biggest concerns is how to digitize and transform quickly, without starting from scratch and having to throw away your enormous investment in traditional systems, such as supply chain management (SCM), transportation management (TMS), and enterprise resource planning (ERP). The good news is that you don't have to — even if you have hundreds of legacy systems and ERP instances across your company.
"How do you digitally transform your supply chain when it relies on tens or hundreds of ERP and legacy systems? The Dual Platform Strategy has worked for many large, global organizations." – Chris Edwards
Click To Tweet
With a network technology layer in place, the key idea is that you begin moving business functions onto the network over time in a systematic way that matches your priorities — and retains the best of your legacy systems. This unlocks enormous value as you eliminate time lags, lower costs, and slash inventory buffers across the network. You decide where to start moving capabilities onto the network, in a phased-way that lowers risk. Best of all, it will be self-funding because you're capturing value at every step. Let's see how.
The Downfall of Enterprise-Centric Technology
In the typical enterprise, the planning-to-execution workflow both within the enterprise and across supply chain tiers typically uses multiple disconnected algorithms and optimization engines, along with dozens (and sometimes many more) ERP instances and systems. This requires armies of planners to cover all the touch points. The planners then implement inventory buffers to cushion and absorb the obvious conflicts that will arise between trading partners, and you sub-optimize the supply chain.
Perhaps even worse, is the stale data that is used for decision-making across trading partners. This problem is never addressed, given the technology being used isn't capable of leveraging real time or multi-tier data anyway.
This all results in a set of over-simplified, aggregate and gross average level decision-making that generates today's poor performance. This is because increased inventories, capacity, transportation and logistics costs are required to buffer for all variances. And even with all these costly buffers, the result is still poor order fill rates and associated customer service levels.
Networks Built to Optimize Supply Chain Performance and Work with Your Current Setup
What's required for success is a network-based approach, and a purpose-built cloud-based Network Platform with end-to-end supply chain capabilities that enables real-time data sharing, multiparty business processes and decision-making, through codified industry best practices. It must also enable business process flexibility and improvements through an SDK-based developer environment.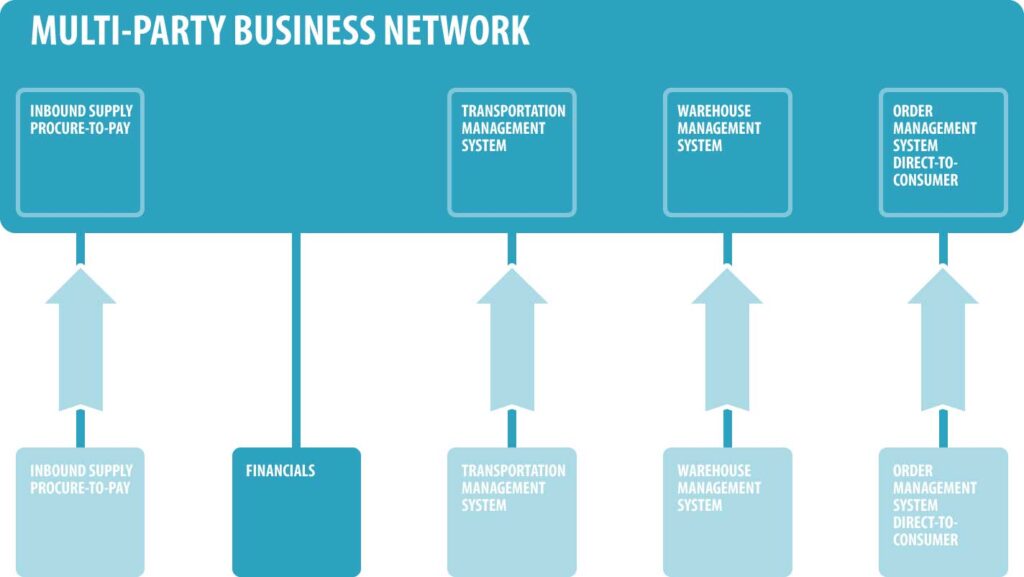 A Business Network Platform runs a single version of the truth (SVOT) for all parties from a demand and data perspective and provides a new business process environment across all lines of business that can federate the financials across your multiple ERP installations.
The Logic of a Dual Platform Environment
While a monolithic enterprise platform is no longer useful at the process level in today's network-based world, it can still play an important role in aggregating and reporting the financial performance of the enterprise.
"I don't advise shutting down a system that has a huge investment behind it, and potentially still years of useful contribution. We can incorporate these systems through the Tunable System of Control…" – Chris Edwards
Click To Tweet
Meanwhile, the Network Platform operates in the cloud, enabling all planning, operations, orders, and execution across all trading partners. The financially related inputs and outputs of these trading transactions can easily flow from the cloud to the financial modules in the enterprise ERP system. Thus, the Dual Platform approach solves your three major problems in digitalizing:
How to gain competitive advantage in today's marketplace
How to eliminate the tremendous costs of maintaining and migrating the current ERP monolith
How to gain the flexibility required to take advantage of new market opportunities
Key Capability in Digitalization: The "Tunable" System of Control
As you evolve from your current state to a Network Platform, you will need the ability to tune what is being processed within each system. One Network's unique "Tunable System of Control" coordinates business processes across multiple parties and systems, leveraging new technology while empowering legacy systems, to deliver optimal results fast.
This tuning capability enables you to assign system-of-record responsibility to each state and action in a Network process to either (1) One Network's NEO Platform layer or (2) another legacy application. In other words, the NEO Platform manages the end-to-end processes, but designated steps can be processed by your legacy systems, and either one can act as the system of record.
This "tunable" environment will also run across multiple blockchains, so if certain trading partners are using Ethereum or Hyperledger, the platform provides cross-chain connectivity as it runs on top of both as a multiparty ledger.
The Dual Platform approach ensures that your daily/weekly/monthly work investment is focused on your organization's most strategic and tactical execution objectives and is done in the most efficient way.
Make a Network Platform Your Primary Platform for Supply Chain Planning and Execution
What's different today is that rather than looking at a Network Platform as a bolt-on to ERP, it actually becomes the primary multiparty platform across the silos and old ERP monoliths. Over time, these become the bolt-ons to the Network for financial processing. With this Dual Platform construct, the operating information/data is in the cloud, is real time, and can flow to the ERP financial modules through the standard Network API's.
"Some systems, like your financials, may never need to migrate onto the network. With a Tunable System of Control and a Network Platform, you have choices, it's never all or nothing." – Chris Edwards
Click To Tweet
Today, "best" as in "best of breed" and "best in class" needs to be defined by what best maximizes overall network performance – costs, time, service levels, scale, and flexibility to adapt to market changes. It is no longer defined by the level of performance within a siloed business function. For example, even if you have the "Rolls-Royce" of WMS systems, but run with big inventory buffers, have poor carrier communications, long replenishment times, and an inability to forecast demand – does it really matter?
The enterprise would be much better served with a Network Platform where every supply chain participant and function had a single version of the truth, operations were transparent and synchronized, and near-real-time decision-making was the norm. That's what maximizes performance in business networks today.
Rapid Returns with a Value-Based, Agile Implementation of a Network Platform
A Dual Platform Strategy delivers benefits to the business in a number of key areas, along with removing the many burdens of current Enterprise Platforms – including being overly expensive, difficult to maintain and upgrade, and unable to keep pace with the current fast-paced business world. It's the perfect time for the Dual Platform to take center stage and provide a technology environment that enables rather than hinders the enterprise from reaching its full business potential.
Unlock value quickly. The implementation of the NEO Platform can be done in a matter of months through a series of value-focused business releases, causing minimal disruption to the current business environment. Focus on the highest value areas first, moving business capabilities onto the network layer systematically in a way that lowers risk, maximizes project success, and creates momentum for the next focus area.
Get out from under ERP silos. As you limit ERP to running the financial modules and over time run more and more of your supply chain on the Network in the cloud, there's no longer a need for an extensive IT team at each location to maintain and troubleshoot the legacy ERP systems. In a Network architecture, trading partners can interact and collaborate at will, based on their secure permissions within the Network. With full visibility and productivity related metrics maintained at the corporate level, all levels of management have access to real-time data simultaneously, and can monitor daily operations as they happen, addressing issues or errors immediately.
"If you don't have a single data model with a pretty robust multi-dimensional permissions framework, do you have a network at all? I doubt it, certainly not one with a real-time single version of the truth." – Chris Edwards
Click To Tweet
Automation offers enormous value. A key part of the opportunity moving to the Dual Platform is around process automation. With autonomous agents powered by artificial intelligence and machine learning (a topic for our next paper), you can automate repetitive business operations and decision-making, such as the handling of routine supply chain exceptions. Then your expert staff can focus on the big impact decisions that deliver the highest value. They'll also have advanced predictive and prescriptive analytics to spot problems early – when there are still many low-cost options – and resolve them optimally at the network level with problem-solving workbenches, optimizers, and "what-if" scenario analysis.
The business potential of a network-based approach to supply chain management is significant as recent case studies have proven. Some companies are already achieving forecast accuracy in the 95% range, driving order fill rates/OTIF to 99% and reducing inventories by 50%. Some other radical improvements that have been achieved include:
Reducing supplier expediting costs by 60%
Reducing premium transportation by 50%
Reducing COGS by 3%
Reducing volume purchasing cost by 10 to 20%
Reducing planning and execution effort by over 40%
In short, value and flexibility are front and center with a Dual Platform Strategy and a network-based architecture. Companies can more easily meet business demands while maintaining the flexibility to implement changes that make the business run smoothly with highest possible service levels at the lowest possible cost. Given the results to date, there is absolutely no doubt that a Dual Platform Strategy will provide the competitive edge that most companies are striving to achieve. To learn more, please visit www.onenetwork.com.
---
You might also like…
Recommended Posts
Latest posts by Chris Edwards
(see all)