This post has already been read 11993 times!
Laying the foundations for longer term value,  innovation and agility in your supply chain
In previous posts, we've looked at what multi-enterprise/multi-party networks are, and what they are not, they are not simply planning or B2B networks. Let's take a look at some of the features and functionality that a multi-enterprise network must have, in some form, in order to work as an effective global network for trading partners.
1. Multi-Party and Network-First
As Geoff Annesley has explained in his post on B2B Networks, there's a big difference between typical planning and B2B networks and a multi-party or multi-enterprise network. A network-first approach is infused with the multi-party principle from the ground up, from multi-party data models on through every layer up to the workflows and user interface.
You should only ever need to connect once to supply chain network platform. Repeated integrations mean you are not on a network. You don't rejoin LinkedIn to connect to new people.
Click To Tweet
It also means that each company only connects once to the network and then they can connect to all on the network via virtual connections on the platform. With that single connection your company can leverage an existing community of retailers, manufacturers, suppliers and logistics providers. Your trading and transaction relationships, and communities are established and configured virtually.
Watch Now: AI for Supply Chain Practitioners
In addition, one network for all parties and transactions means solutions work seamlessly and intelligently together, based on real-time data from all business partners and systems. It makes for much better data, much better planning, and far more effective execution, so you get better results.
2. Real Time Single Version of the Truth (SVOT)
Enabled by a multi-party network, data is shared in real time, not via batch processing or by being "thrown over the wall" to nearest neighbor trading partners. It is not duplicated. There is a single authoritative version of the truth shared by all.
Real-time data makes all the difference, because the world is dynamic not static. Knowing what's happening now enables managers and executives to make optimal, reality-based decisions that generate real world value. @duckworth_nigel
Click To Tweet
Working with real-time data means more accurate view of the business, more timely alerts, better planning and more effective execution. There is minimal "bullwhip" which comes from increasing degrees of uncertainty as you move down a typical linear supply chain. So there's no need to insulate against that uncertainty with safety stock.
3. Support Big and Different Data
The network supports data diversity, both structured and unstructured. This is becoming more important as the number of intelligent machines and devices with sensors proliferates. The network also needs to clean and manage enterprise data and harmonize it across enterprises, so effective tools for  Multi-Party Master Data Management are crucial.
4. Artificial Intelligence
Global companies need to acquire, share and process huge amounts of data in order to manage their supply chains and work effectively with business partners. This data is impossible to use without using machine learning and artificial intelligence to help process it, identify trends and anomalies, and help drive decision-making. Intelligent agents are necessary to effectively manage a global business today. These virtual agents are able to sift through the data and transactions, identify potential problems, then recommend solutions or even execute the solutions (within enterprise preset limits and guidelines).
Watch Now: AI for Supply Chain Practitioners
5. Modular and Extensible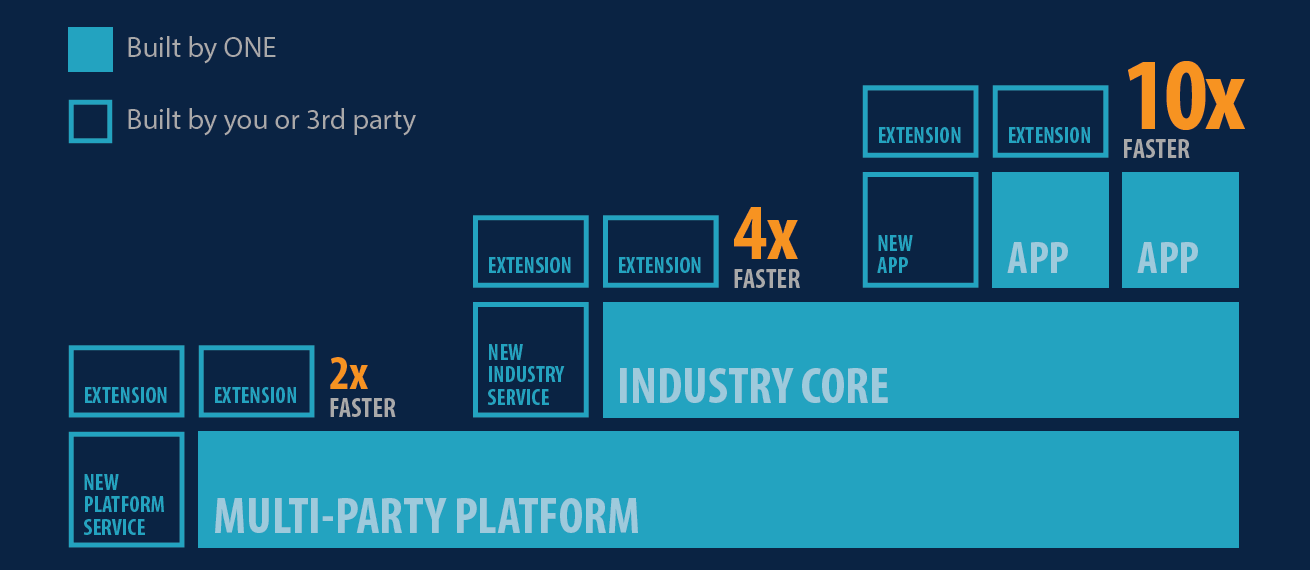 Every company is unique in many ways, so commercial off-the-shelf solutions rarely satisfy business needs completely. And with these needs constantly evolving with the organization and market shifts, solutions need to be tailored to these changing needs too. A modular, service-oriented architecture ensures that a company can enjoy maximum productivity by using pre-built modular solutions, yet still tailor those modules to their needs. Modules can be used to replace existing apps, or quickly add new functionality to support new needs and capabilities. A network platform should provide an SDK to enable this tailoring of solutions and quick creation of new modules.
6. Industry Specific Cores
While companies differ in specific needs and processes, there are major commonalities across industries, such as data models, industry terminology, rules and regulations, workflows and best practices. An effective multi-party network recognizes these similarities and builds support for them into the network, so that companies need not reinvent the wheel and build from scratch.
7. Embrace the Past
While adopting new technologies, companies bear legacy technology and systems that continue to serve a purpose in their organizations. It makes little sense to discard systems that are already in place and delivering value. A robust network platform ensures this value is not lost by exploiting them, and delegating the appropriate data and processes to these systems, while managing the overall workflow across the network.
8. Evergreen Solutions
The network platform should be upgraded constantly to incorporate improvements and new functionality into all layers of the platform, including the industry cores and solution modules. It should constantly evaluate and incorporate new technologies like machine learning, deep learning and intelligent agents, to ensure customers on the network are kept at the forefront of innovation. With a flexible platform, it is important that your customizations to solutions and modules are preserved and remain completely functional as the platform evolves. One Network offers a "Never Legacy" program so your solutions are "evergreen," no matter how you customize and extend the solution.
9. Secure and Configurable Permissions
A platform that unites a wide range and thousands of companies, has to have a robust permissions framework, one that offers fine grained, role-based control over what users and companies can see and do with data. Without such a safeguard, data and proprietary information is at risk and trust between trading partners is undermined.
10. Value-Based Implementation
McKinsey & Co reports that "On average, large IT projects run 45 percent over budget and 7 percent over time, while delivering 56 percent less value than predicted." A true multi-party network platform simplifies this process, as companies "connect once, connect to all". Further, a value-based implementation process is used to target high value, quick wins in repeated cycles, with evaluations and adjustments after each cycle. This allows the project to deliver return on investment rapidly while allowing opportunities to adjust those priorities when necessary.
There are many more requirements for an effective network platform, but the ten pillars are a great starting point and checklist for ensuring a network solution will work smoothly and deliver significant value, upfront and be able to grow with you for years down the road.
Recommended: ChainLink Research Report – Supply Chain Networks Revealed
Latest posts by Nigel Duckworth
(see all)