This post has already been read 12759 times!
I recently presented at the Gartner Supply Chain Executive Conference in Phoenix Arizona. It was a great conference, and I enjoyed a lot of stimulating conversations with executives, around current challenges and the future of supply chain. I'd like to share some of those ideas in this post with a focus on enabling one of the most exciting emerging technologies, that of digital twins.
The theme of the conference was, "A New Era: The Convergence of Physical and Digital Supply Chains." While Gartner has highlighted many worthy trends, including artificial intelligence, Internet of Things, blockchain and robotic process automation, the theme concerned the merging of the physical and digital worlds, and how the digital can create value in the real world.
It perfectly aligns with the evolution we have seen from companies transitioning from enterprise systems to more open and dynamic network business platforms, platforms that are capable of unifying planning and execution across trading partners, and using digital sensing and digital agents to guide both digital and physical processes.
The Current Problem
Most companies' supply chains are nowhere near achieving the unified state that Gartner describes. Most are valiantly trying to coax improvements out of legacy systems and B2B cloud platforms that have major drawbacks, and are incapable of grounding a successful and sustained transformation.
Related: 8 Signs Your B2B Cloud Network is Broken
To recap, these traditional types of IT projects are standalone efforts, provide no ongoing leverage, don't scale and they are difficult to change when conditions demand it. The biggest problem with the traditional approach is all the hardwired, point-to-point integration. Each application running off its own model or view of the world, each one directly connected to the data sources it needs to access… each project self-contained and started from scratch… rarely leveraging anything from the previous implementation, except maybe consuming its information output.
The supply chain is a multi-party business problem, not a company problem. A multi-party digital network enables all companies to connect and manage connections to trading partners digitally rather than through physical, hardwired…
Click To Tweet
Enterprise Application Integration (EAI) approaches have solved some problems, but have actually increased the complexity of our application architectures, not simplified them. Legacy supply chain vendors have tried to wire in an information bus, but have failed because many of the core applications were acquired and were built as standalone apps.
As a result of these "conglomerate" systems and the batch processing between them, the supply chain is rife with duplicate, stale and conflicting or missing data, which results in misalignment of resources and mismatch of supply to demand.
Multi-Party Networks
To address this problem at its root, we need to recognize the supply chain is a business network problem, not a company problem. As such, we need to start with a multi-party digital network, one that enables all trading partners to connect once and then manage connections to trading partners digitally rather than through physical, hardwired connections.
Related: ChainLink Research Report – Supply Chain Networks Revealed
Multi-party networks can take in data from all trading partners and systems, and through a permissions framework, share that data appropriately with the relevant parties. This eliminates virtually all the latency and greatly reduces the integration efforts of all parties. Companies no longer need to repetitively integrate to each trading partner or to multiple portals or platforms.
The advantages are dramatic:
Rapid implementation and time to value
Increased agility with adaptable virtual communities
Higher revenues due to increased services levels and fewer stockouts
Global visibility into orders and shipments with increased transparency
Reduced inventories across all sites
Lower cost of goods sold
Better traceability and product safety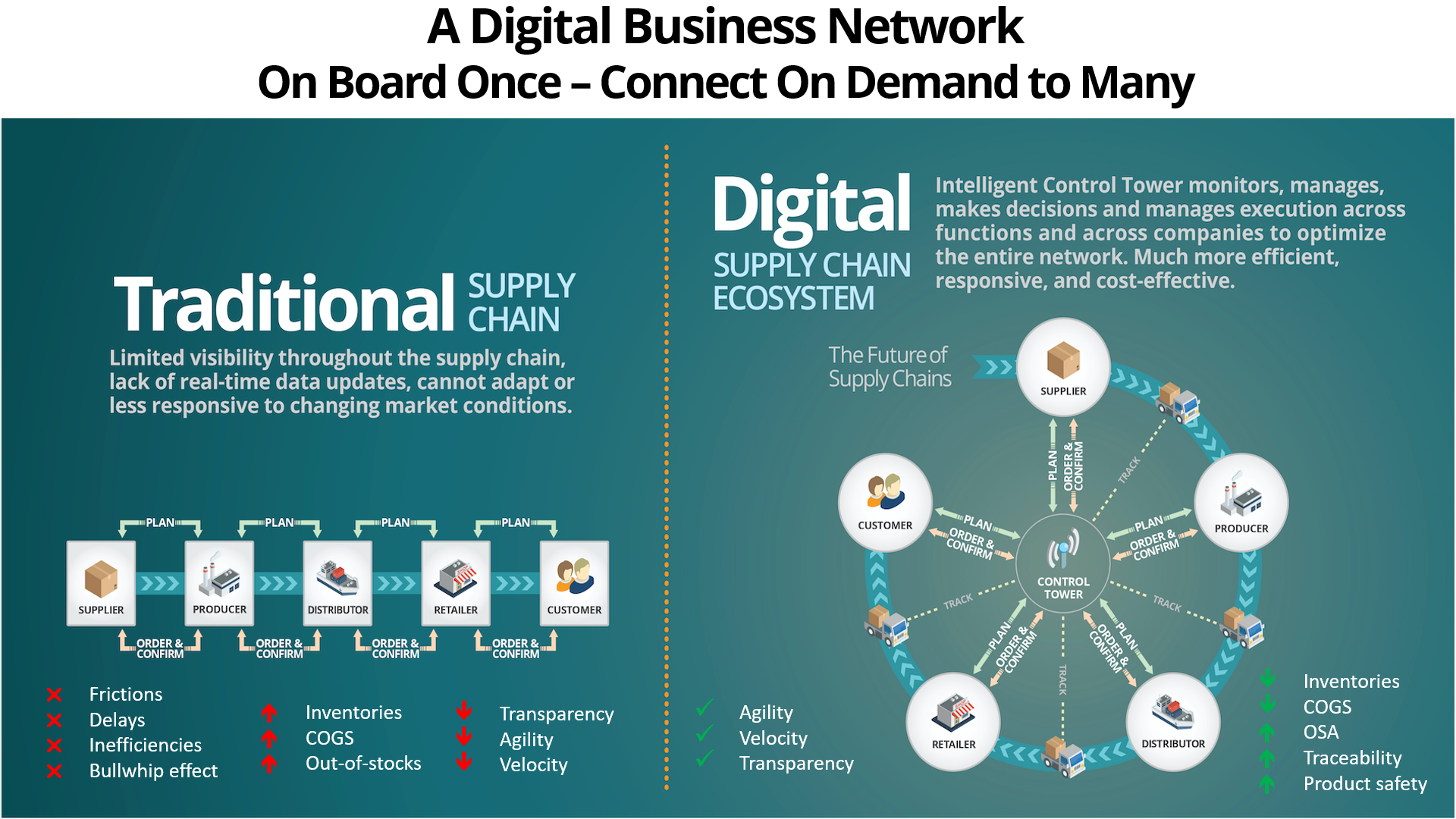 The Digital Universe
Let's look specifically at the unification of the digital and the physical worlds. With a digital multi-party network designed to absorb, process and disseminate a wide range of data, integrating new technologies becomes routine. This means that data from services like weather, traffic, or the Internet of Things (IoT), can easily be integrated, shared and consumed by the appropriate partners. It can inform planning and be used to drive execution.
Digital twin technology promises to deliver significant value. Digital twins are representations of physical objects or systems - things like parts, engines, vehicles, containers and even companies and entire supply chains. - Geoff Annesley
Click To Tweet
Digital twin technology is an emerging technology that promises to deliver significant value. "Digital twins" are simply digital representations of physical objects or systems, virtual copies of things like parts, engines, vehicles, containers and even companies. Gartner has extended this concept to supply chains. One of Gartner's top supply chain technology trends for 2019 is the "digital supply chain twin," which Gartner defines as, "a digital representation of the relationships between all the relevant entities of an end-to-end supply chain — such as products, customers, markets, distribution centers and warehouses, plants, finance, attributes and weather."
Whatever you want to call it, we call it an Enterprise Social Graph, that underlies One Network's multi-party business network. It is a precise map of each company, its sites, products and relationships to other business partners. It enables companies to create and manage agile, virtual business communities of trading partners, to share data and manage multi-party processes.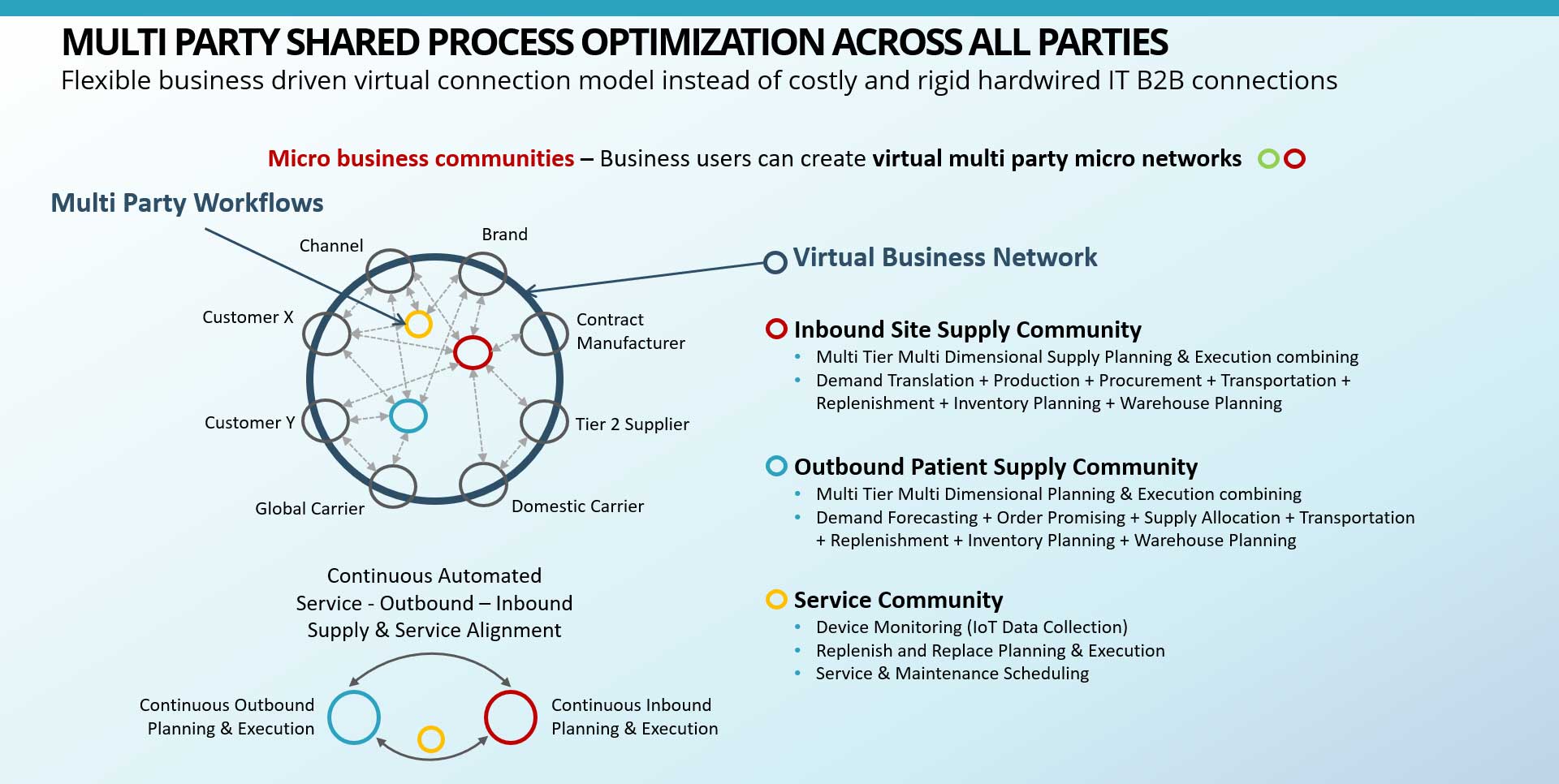 In these virtual communities of supply chain business partners, traditional paper-based, phone and fax processes are replaced with real-time digital processes. The difference is, these processes are more accurate, faster and can be continuous and even autonomous.
Further, supply chain planners and managers are replicated digitally, autonomous virtual agents monitor the network, identify anomalies or potentially missed milestones, and recommend solutions or resolve the problems autonomously.
For example, with One Network Enterprises' Chain of Custody Solution, digital agents can monitor the network and identify when pre-configured parameters are violated. If digital agents detect that IoT sensors on a container with a shipment of drugs goes out of temperature range, they can alert managers and recommend alternate sources of supply, or trigger a new order.
Digital supply chain twins present a huge opportunity for taking costs and delays out of the supply chain, and making a more efficient, responsive and safer supply chain. Multi-party digital networks enable the sensing and managing of the physical supply chain to a degree never before possible. They enable technologies such as IoT and AI to work together to enable precise measurement, optimization, and automation of multi-party business processes — that can scale to optimize even the most complex supply chains.
That's why we'll continue to see the rapid adoption of multi-party, digital business networks, combined with the many emerging and maturing technologies such as digital twins, AI, and IoT. Together these technologies will be able to make giant leaps in efficiency and value, by identifying areas of opportunity, optimizing across networks, and automating supply chains.
Latest posts by Geoff Annesley
(see all)