This post has already been read 3041 times!
Intelligent control tower solutions that you can control and customize for planning, execution, and collaboration across the One Network platform
As the world has become more connected and interdependent, supply chains have been visible on the world stage like never before. Global supply chains have been stressed and challenged as everything else has during the COVID-19 pandemic.
Not having enough PPE for healthcare workers to do their jobs safely
The challenge of producing and distributing a record number of vaccines across the globe
Semiconductor shortages bringing automotive assembly lines to a halt
Unknown fallout from the blockage of the Suez Canal
All these have all made headlines recently, as well as resolutions to safeguard critical supply chains from the desks of the last two US presidents.
With the shift to online shopping, many businesses struggled to adapt their business models and supply chain technology to cope. 68% of retailers experienced moderate to severe disruption of their supply chains (RetailNext's CEO Retailer Pulse, April 2020). Your business has likely faced new challenges as well.
The problem is, traditional supply chain technologies like ERP, one-to-many portals, and B2B networks, struggle to pivot in such instances. The major reason is that they are not networks, but one-to-one, or one-to-many systems, with hardwired connections to trading partners. This makes it difficult for them to adapt to rapid changes in the market and to new needs.
Traditional supply chain technologies, rather than being networks are enterprise-focused, and thus require a lot of IT overhead to implement and manage connections to other systems.
Click To Tweet
One Network's Real Time Value Network is radically different. It is a true many-to-many network, enabling any business on the network to quickly and virtually connect to any number of other businesses on the network. You connect once to the NEO Platform and then can be virtually connected to any other organization on the network (in the same way you only need to sign up once for LinkedIn and can then connect with anyone else).
The Benefits of a Multiparty Supply Chain Network Platform

Here's a quick rundown of some of the benefits of a multiparty/many-to-many network. It increases your resilience by connecting you with thousands of businesses from across dozens of major industries. The NEO software platform helps you overcome challenges by sharing real-time visibility with your suppliers, customers, logistics, and fulfillment with a Single Version of Truth. And, what's really powerful and sets it apart from your typical solution, the platform includes embedded NEO intelligent agents which gather information from across your entire business network, analyze and autonomously optimize business processes, and identify and resolve issues autonomously in the background, or guide users to optimal resolutions.
This helps your company anticipate and adapt seamlessly to change, and minimize logistics and supply chain disruptions.
The Adaptable Supply Chain Network Platform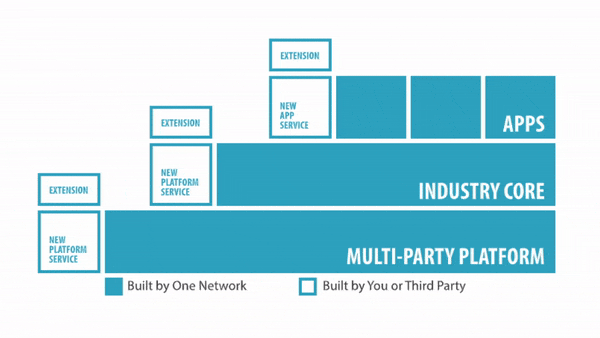 One Network's NEO Platform is truly customizable and extendable so you can bring all the power of our real-time, multiparty network to your specific needs. ONE's Developer Network provides a Platform and software development kit (SDK) as well as learning resources and a community to help your developers create and implement modules that integrate with our award-winning platform.
The NEO Platform is designed to work with existing systems and technologies, so you're not "ripping and replacing," but rather connecting and enhancing.
Click To Tweet
With the SDK, the Platform can even be integrated with any existing tools and applications that are already indispensable to your business. A Dual Platform strategy has proven ideal for many of One Network customers, enabling them to leverage the platform and simultaneously leverage and enhance existing systems, with minimal disruption to their operations. You might not need to customize the One Network Platform at all, but when you do, there's DevNet.
What DevNet Can Do
DevNet is for all One Network customers, business partners, implementation partners, industry influencers, software vendors, and IT departments. It delivers powerful network effects. Just like the NEO Platform, with each additional member, the Developer Network becomes even more valuable for every existing member.
It helps new and existing ONE partners in implementing the platform for your business. Bringing in a new technology is always complex, but we have guided hundreds of customers through the process to maximize success and minimize interruption. We know what works and how to get the best the results quickly.
DevNet is created by developers, for developers. One Network is committed to help you find API's, tools, documentation, and everything you need. Our community is rich and helpful, and provides an engaging and productive experience so that developers are up and running and programming in no time.
It enables developers with existing skill sets like Java, SQL, JavaScript and React to build multiparty applications on top of the NEO Platform. We have low-code solutions to add or customize screens and reports, all the way to a modularized architecture which enables you to create brand new components that extend our platform to your use case that just isn't possible with other technology platforms.
It provides guidance in creating new custom modules and solving issues that others have overcome before. We have an active Developer Resource Center forum and archives filled with experienced ONE software engineers and our partners' experts. If you can't find what you need, we will be there to work out the solution with you.
DevNet helps to synthesize custom NEO intelligent agents. If you have an idea for how AI can make your supply chain more agile, resilient, fault-tolerant, or bug free, we can help you train NEO agents to make it happen. And when you see what NEO does already, you will likely be inspired with new ideas.
Managing a complex supply chain in the real world is challenging. It can be frustratingly opaque and constantly changing. One-size-fits-all solutions never work well. The NEO Platform "out of the box" is powerful and flexible and will get you miles ahead in your processes and planning. But for each of the special cases that make your business unique, DevNet is will help you adapt and implement the platform to suit your unique needs, to solve your business' biggest supply chain problems.
Whether you need a custom workflow to connect to a critical piece of software, or a suite of new modules needed to grow your company into new lines of business, we will be alongside you for every step of the process. Join tens of thousands of organizations already on One Network and see why diverse organizations from the US Air Force and US Navy, to Humanitarian Aid and Healthcare organizations, have chosen One Network's NEO Platform to manage their complex and critical supply chains.
Latest posts by Daniel Fryar
(see all)