This post has already been read 8970 times!
Save millions on your SAP S/4HANA® migration while creating greater business value with business network technology.
As SAP pushes its customer base to move to S/4HANA, global enterprises face a choice. Slog through yet another costly ERP reimplementation with an uncertain outcome and an open timeline? Or ramp up quickly with an operational system-of-record and proven technology designed from the ground up for multi-party business networks? You know the answer already, and we explain here why it's the correct one.
Business partner collaboration and order execution across your trading network has now become a reality given the technology advancements of the past few years. How you decide to engage with and structure your network relationships will determine your future business success as all companies begin to exploit their opportunities as members of these digital ecosystems. Digital network technologies are transformative in nature, driving new competitive landscapes across all industry sectors.
Recommended: SAP versus Business Network Platforms
The Emergence of Multi-Party Supply Chain Networks
ChainLink Research recently defined a Supply Chain Network as "a multi-party network for trading partners, which is a single-platform, single-instance of supply chain applications, data, and services. Members can share data, processes, and applications for the purpose of achieving mutual and private enterprise business goals." The report ranks One Network Enterprises as the leader in the marketplace for technology providers in this space.
Given this widely accepted definition, shared by industry analysts, it can be surmised that this platform evolution happened for a reason — and solves major supply chain pain points that have for years been left unaddressed by the big ERP vendors due to an aging architecture which will persist for years to come.
Why Re-Implement Big ERP? Is it what your business needs to excel in today's market? Or are you better served through a business network technology shift - such as powers Uber, Alibaba, and Airbnb? - Joe Bellini
Click To Tweet
This is really no surprise, given that once companies establish true visibility across their business network, they begin to fully realize the lack of collaboration they've had in the past with many of the key network partners such as contract manufacturers, material suppliers, or outsourced logistics providers.
And they fully recognize what this lack of visibility has cost them.
One Network drives results which include 25% increased forecast accuracy (item level); 2% increase in retail sell through; 2% higher service levels; 30% reduction in inventory levels; 20% reduction in transportation costs; 1-3% lower landed costs; 80% reduced headcounts for robotic process automation of repetitive business functions. – Joe Bellini
The proof point here is that One Network has achieved impressive results wherever it has displaced or been deployed to coexist with ERP style technology. Typical improvements include increased forecast accuracy at the item level of 25% or more, increased retail sell through of up to 2%, increased service levels of 2%, improvements in inventory levels of 30% or more, 20% reduction in transportation costs, lower landed costs in the range of 1 to 3%, and reduced headcounts of up to 80% for robotic process automation of repetitive business functions.
Global Enterprises Face Critical Questions
Is yet another "evolution" of big ERP what your business needs to excel in today's market? Or is your future better served through a business network technology shift – similar to those that have powered successful business models like Uber, Alibaba, and Airbnb?
The imbalance of cost and value during the last round of upgrades/re-implementations is well documented. Computer Weekly recently stated, "When they (Computer Weekly) started seeing SAP project failures in the late 1990s, cost of implementation was one of the contributing factors. The problem was that SAP was sold as a set of pre-packaged business processes, encapsulating business processes from some of the world's largest companies, but often these did not match how companies trying to implement SAP saw their business processes. This meant they often required customization."
Computer Weekly continues, "Two decades on, experts are in agreement that customizing SAP should be avoided because cost and complexity will quickly escalate. This is as true today for companies embarking on an SAP S/4HANA implementation as it was when they first implemented SAP R/3 in the 1990s."
SAP has already announced plans to end support for the core of its ERP product. Would you rather be pushed into a technology change on a vendor's timeline with an uncertain outcome, or would you rather be at the forefront of today's evolving business models with enabling technology that powers these success stories?
There is a Better Way Forward
And it is a strategy focused on the reality of today's multi-party business networks. Gartner recently validated the global market in advanced technology for supply chain business networks when it published, for the first time, a new Magic Quadrant research report on supply chain networks. Given the new business models such as Uber, it was long overdue. While Uber is a business-to-consumer (B2C) model, this basic industrial shift to a network operating model is now becoming pervasive in global business-to-business (B2B). In fact, the level of business benefits to end consumers that allowed Uber to displace existing B2C models are now being realized by companies across multiple industries who are replacing their tired, old monolithic and centralized ERP operating models with network-based operating models.
Recommended: SAP versus Business Network Platforms
One Network Enterprises is the execution leader in the Gartner Magic Quadrant for Multienterprise Supply Chain Business Networks for good reason. A survey of installed customers across multiple industries including Retail, CPG, High Tech, Automotive, Industrial, Healthcare, Pharmaceutical, Transportation, Logistics, Aerospace, and Defense reveals business process improvements that simply aren't achievable using past or future ERP-style technologies. And better yet, Network based technologies not only enable advanced business process capabilities, but also replace most (and in some cases all) of the old ERP software capabilities – becoming the operational system of record.
To be ranked in the Gartner report, Network software providers need to prove execution and innovation across many of the same software categories we have come to believe only come from the ERP and other vendors. It's a long list that includes: forecast visibility, inventory visibility, capacity visibility, supply chain planning, supply chain execution, supply risk management, performance management, AI/Machine learning, predictive and prescriptive analytics, exception management, issue resolution, identity management, document management, enterprise system integration, multi-channel integration, network interoperability, information hub (control tower), business partner connectivity, signaling and tracking movement of materials on multiple orders/shipments, and transportation hierarchies/nodes/lanes/types (air, road, marine, parcel) across multiple business partners.
Further, Gartner says that the Network software offering provides a comprehensive multi-enterprise end-to-end solution that spans all tiers of the value chain from the consumer's consumers to the supplier's suppliers – including forecast, inventory everywhere, order, shipments, packing, transport, notification, capacity, risk, and finance.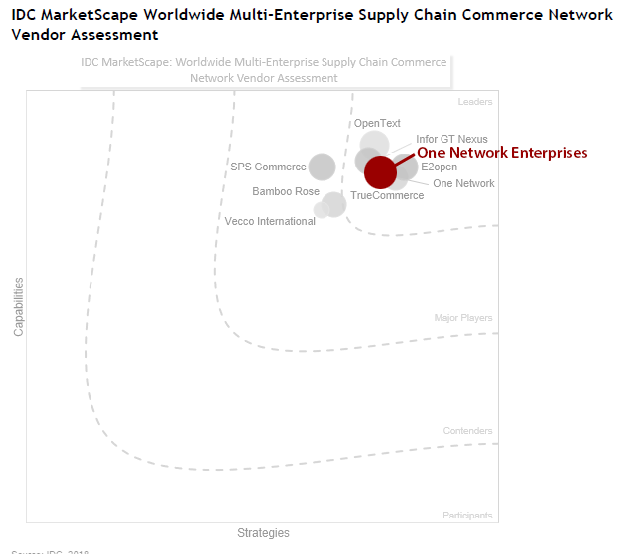 Given One Network's leadership position across Gartner, Nucleus Research, IDC, ChainLink Research and other analyst groups, and given the functional domain of coverage listed above, your enterprise should take a serious look at the true, network-centric technology that is powering the market's most competitive business models. After all, you're being forced into a major system re-implementation in any case – so you owe it to yourself to consider today's best available technology for multi-party supply chain management.
Read my full report on Supply Chain Network Platforms and how they can save you millions of dollars in migration costs, while providing far better functionality and more business value. In it I also cover the five pillars you need for a multi-enterprise network.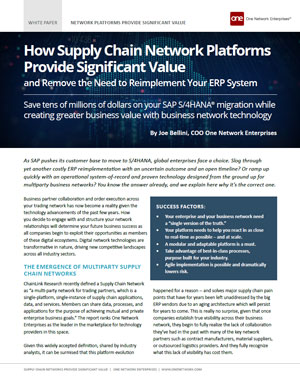 Download: Supply Chain Network Platforms
---
Recommended Posts
Latest posts by Joe Bellini
(see all)