This post has already been read 4018 times!
In the Enterprise Journey to Blockchain Part 1 we looked at the differences between the world of traditional business technology and that of the multi party networks of blockchain. In Part 2 we took a closer look at the difference between centralized and decentralized systems, and considered the limitations of Blockchain as a Service. Now we will discuss how companies can bridge these two worlds.
Harnessing the Power of Blockchain and Enterprise Systems
What companies need is a way to leverage their existing systems, continuing to use them for what they do best, while adopting and exploiting the benefits of blockchain and networks to provide real-time connectivity between their systems and those of their partners.
There are some well-established blockchain networks like Ethereum, but it is still too early to bet on one blockchain network. In most cases companies will need to leverage multiple blockchain networks. - Geoff Annesley @onenetwork
Click To Tweet
One Network has designed a multi party business network platform that operates across and multiple Blockchain networks. The platform is designed to support a combination of:
Private network communities on private blockchains restricted to trusted verified parties
Private network communities on public blockchains restricted to rusted verified parties
Public network communities on public blockchains with or without permissions controls
Integration and interoperability across private ERP and IT systems across N-Organizations
Network of Network capabilities embrace 3rd party Cloud services
Combining these capabilities with battle-hardened network aware autonomous AI agents, machine learning agents, and a modular adaptive development platform is enabling ONE to deliver innovative solutions that solve long standing business problems where traditional enterprise solutions have failed.
Multi-Party Network Orchestrated Blockchains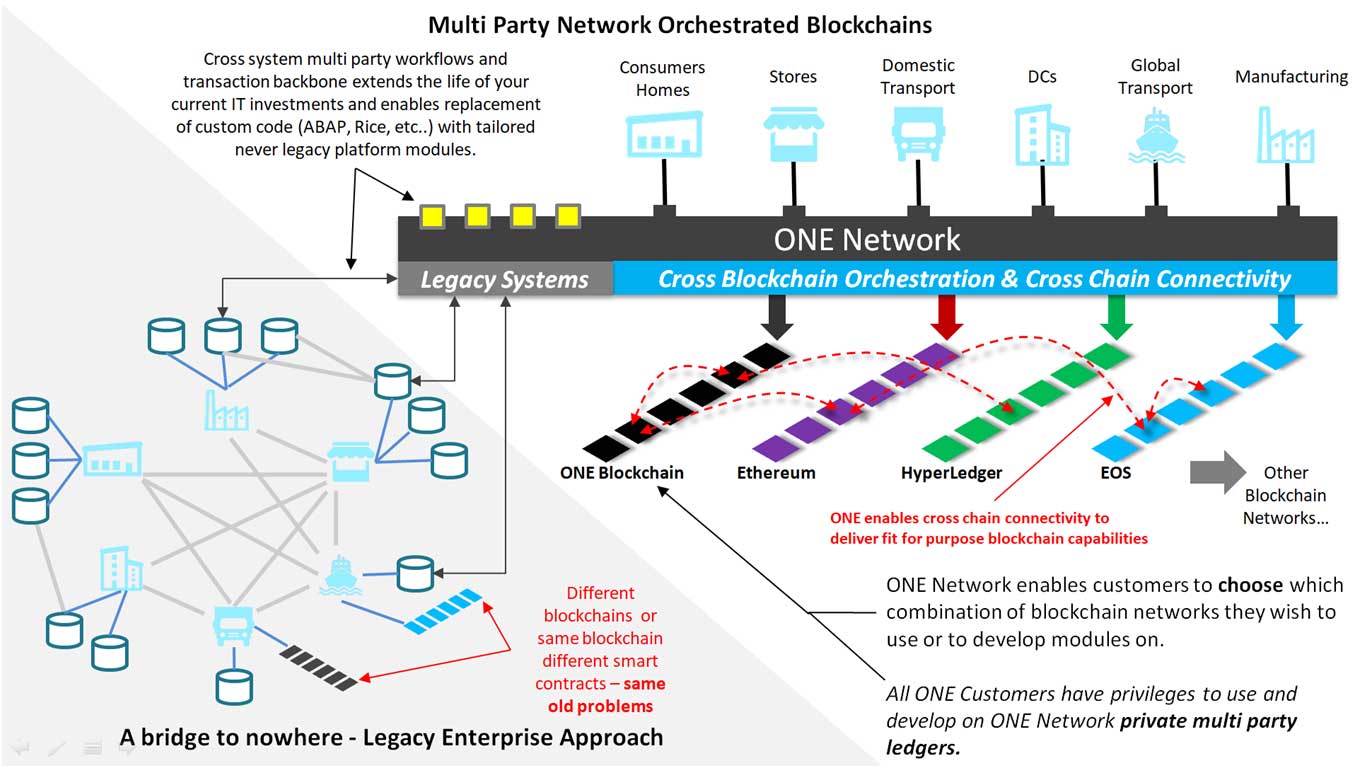 A Platform for Bridging Legacy IT systems with Blockchain Networks
The existing corporate markets need a bridge between legacy IT systems and Blockchain networks to enable business and IT to transition to Blockchain when and where it makes sense. This strategy is practical, lowers risk and avoids lock in to one Blockchain network while leveraging your existing IT investments. While blockchain networks like Ethereum are well established it is still early to bet on one Blockchain network and it is likely that corporations will want and need to leverage multiple networks.
Some IT organizations will choose a best of breed approach utilizing networks that specialize in various dimensions of capability such as distributed storage, high frequency payments, smart contracts, super computing access, identity management, social networks, news networks, etc… while others will prefer to leverage a single blockchain network such as that described by Telegram/TON, and other similar broad scope Blockchain networks.
One Network was built on the concept of multi party networks, multi party processes, optimizing trading partner networks, and enabling companies at any level in a business network to transact directly with each other. - Geoff Annesley @onenetwork
Click To Tweet
To get value out of Blockchain there are layers of functionally beyond simple DApps or simple smart contracts required to deliver real world solutions. Very few companies are familiar with what is required to build and support multi party applications with N-way network technology. A platform designed to enable efficient business networks must be built on the ideas of shared systems, shared applications, single version of the truth, common or community master data, N-way multi party workflows, decentralized (economic, logical and physical) computing, etc…
Multi Party Network Services are required in the Blockchain World
One Network has pioneered an approach that provides a bridge between one company centric IT systems and associated business processes and multi party business networks that leverages multiple types of Blockchain networks.
One Network was built on the concept of multi party networks, multi party processes, optimizing trading partner networks, eliminating the middle man, and enabling companies at any level in a business network to transact directly with each other.
In part due to being designed with "business network" principles One Network has been able to quickly and easily incorporate Blockchain technology and networks to provide practical and valuable services that are out of the lab in working production driving value for many companies.
In addition One Network provides a global multi party network that acts as a transaction and synchronization platform functioning across N corporate IT systems and N corporations at the same time. ONE provides a gateway to both a private Blockchain that runs on a global federated network as well as public Blockchain networks such as Ethereum and Hyperledger.
Enabling Innovative Multi Party Blockchain Applications
Key capabilities provided by ONE and required to enable efficient development and delivery of multi party Blockchain applications include:
Multi Party Permissions Framework
Multi Party and Community Master Data Management
Multi Party Workflows
Multi Party Transaction Backbone
Multi Party Transactional Business Objects such as Sales Orders, Purchase Orders, Transport Orders, etc…
Proof of Service Frameworks to enable Smart Contracts
Network based decision and execution agent frameworks
On chain and Off chain transaction processing and data storage
On chain and Off chain asset tracking
Development tools and public APIs
These are the basic layers required to create useful business applications and services on Blockchain networks.
To create innovative applications and services requires a few more layers including:
Business Network AI Frameworks
Business Network Machine Learning Framework
Business Network Planning and Automated Decision Execution Frameworks
Interfaces to allow humans to collaborate efficiently with AI decision making agents
One Network provides all of the above capabilities as the foundation behind their multi party solutions and applications. IT and 3rd party developers have access to the same services and APIs to create and tailor applications unique to an industry or particular business network or individual company.
But What About My ERP and Other Internal Systems?
ONE Network is designed to communicate to any number of ERP and other single company centric systems. This requires a multi-layer integration and sequencing capability that traverses master data, transactions, events, plans, projects, sites, business functions and decisions. At the system integration level ONE performs the following functions:
Updating internal IT and ERP systems with network transactions translated into single company traditional transactions
Updating of shared network objects and connected Blockchain networks with the semantics of internally generated transactions that are relevant to multi party processes.
Synchronization of master data across N entities
Network community master data management
Permissions constrained access to past and predicted or recommended decisions, alerts, KPIs to all concerned network participants
Orchestration Across Blockchain Networks
Betting on one Blockchain network is a fools game at this point in time. There will be many different Blockchain networks required to meet any one corporations or trading partner networks needs. While Ethereum and Hyperledger have strong smart contract capabilities other networks provide valuable functionality that corporations will want to leverage, for example:
Smart Contracts: Ethereum, Hyperledger, NEO
Data Storage – Distributed Blockchain Storage: STORJ, FILEIO, TON
Access to Off Chain High Performance Computing Services: RLC, ADA
High Transaction Volume Payments: NANO, XRP, Stellar
IoT: IOTA
Identity Services: TheKey, BlockAuth
Credit Check Services: BLOOM
One Network's platform links to multiple Blockchain networks to access specialized services. This strategy will provide flexibility, scalability and reduced risk as the winners in the Blockchain race change over time.
In the next part of this series we will look at Smart Contracts and Control Towers. In the meantime, if you want to jump ahead, read my paper Bridge to Blockchain to get the full story.
Latest posts by Geoff Annesley
(see all)