I was having a discussion about Artificial Intelligence (AI) in supply chain planning and execution with Steve Banker today, and he asked me what I considered machine learning – particularly in the context for business solutions. With all the hype surrounding this topic, I think it might be good if I shared my response.
Many of us have spent our entire professional careers building solutions that either make or help make business decisions. These solutions are based on models that represent the system and its behavior in the software. There are assumptions and policies baked into these models.
Learning happens when we refine or update our models and their assumptions based on experience. Machine learning happens when machines do these updates and refinements autonomously or create entire models on their own. So, here is my definition of Machine Learning:
"Machine Learning is when machines are able to autonomously create or refine decision models." - Dr. Adeel Najmi
Click To Tweet
The process of machine learning looks like this: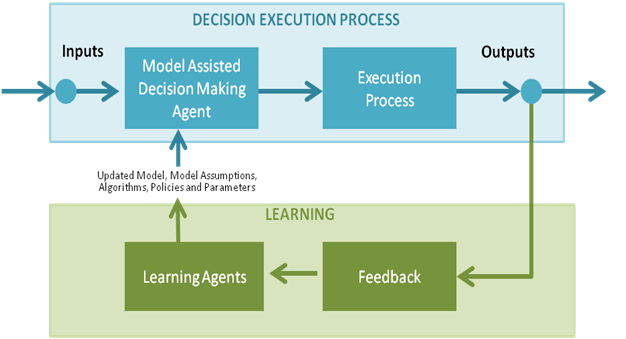 Does this make sense?  Let me know what you think. Want to know how machine learning and artificial intelligence can dramatically improve your supply chain? I highly recommend you read: The 8 Keys to Success with AI in Supply Chain.
Adeel Najmi is a pioneer in supply chain management. He has guided successful transformations at over 25 Fortune 500 companies across diverse industries. He has also been a visionary and prolific innovator having created several breakthrough supply chain solutions and secured over a dozen patents.
Adeel has held numerous roles, including Senior Vice President, Products at
One Network Enterprises
and Chief Science Officer at JDA Software.
Adeel was named as one of Supply Demand Chain Executive Magazine's "Pros to Know" in 2009, 2010 and 2015. He holds a doctorate in Industrial Engineering and Operations Research from University of California at Berkeley.
You can follow Adeel on twitter
@AdeelNajmi
and on
LinkedIn
.
Latest posts by Adeel Najmi (see all)