This post has already been read 7800 times!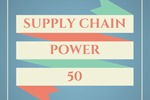 Today Supply Chain Opz, "where supply chain theories meet practices",  recognized the Network Effect as a top supply chain blog for 2014. Below we've excerpted a bit of their rather rigorous selection criteria. Thanks to our rapidly growing number of readers for making this happen!
Read their full post as well as selection criteria below:
At the beginning of each year, many supply chain blogs/sites publish the articles about their most popular contents of the year or make predictions for things that might happen in the coming year. For SupplyChainOpz, we will do something a bit different, we will uncover the most outstanding supply chain blogs and their contents…(read rest of post here).
Latest posts by Aaron Pittman
(see all)