This post has already been read 25588 times!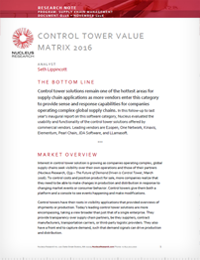 Nucleus Research has a new report out, The Control Towers Value Matrix 2016, which surveys the landscape of Supply Chain Control Towers. The concept of a "Control Tower" has evolved in the last few years. Originally a Control Tower was conceived as simply providing visibility across a single or extended enterprise, with a limited degree of control.
Today's advanced Control Tower solutions go far beyond. As analyst and author of the report Seth Lippincott explains:
"Leading towers can process streaming data from multiple parties to create an end-to-end picture. In addition, they provide advanced business intelligence such as prescriptive and predictive analytics to guide supply chain managers in making data-informed decisions." (p1, Control Tower Value Matrix 2016, Nucleus Research)
One Network's technology goes further, incorporating artificial intelligence and machine learning. ONE Platform utilizes autonomous agents that can make routine and delimited decisions, essentially putting the day-to-day trivial aspects of your supply chain on auto pilot.
The report makes interesting reading and offers guidance in what to look for in a Control Tower. You can download the full report here:
Nucleus Research: The Control Towers Value Matrix 2016
You might also be interested in our series on control towers, The Rise of Supply Chain Control Towers (Part 1) and How to Build a Better Control Tower (Part 2)
Latest posts by Adeel Najmi
(see all)