This post has already been read 19082 times!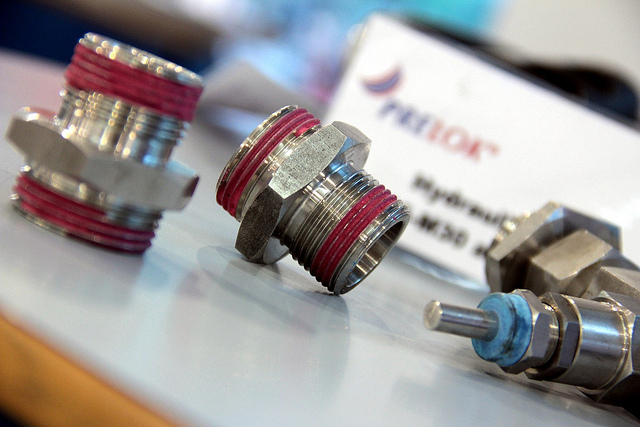 Note: This is an ongoing series of posts on new developments within the automobile supply chain, with examples of best practices.   In my last four  posts, I talked about order aggregation,  new inventory replenishment policies ,  why a network model makes so much sense, and the  all important ASN. Today I want to discuss inbound logistics requirements.
Earlier we discussed the fact that the "procure to pay" business transaction cycle includes transportation events such as tendering, pick up, in transit, dock scheduling and deliver along with full track and trace. While there are a number of detailed requirements listed below related to inbound logistics (which are fully complied with in the new cloud network platforms we have been discussing), the real key is that in addition to optimizing transportation and logistics costs, we also want full inventory visibility and control. Thus similar to EDI, logistics needs to be considered part of the transactional flow, not a separate set of functions to be integrated.
Considering the lengthy set of detailed logistics requirements for an automotive supplier list in the balance of this section, one needs to wonder how an optimal level of analytics, visibility, and control could have been provided using legacy systems. As we all know it was not possible and thus we have significant inefficiency in today's logistics environment, maybe not so much in the logistics themselves, but in the value that an integrated logistics environment could bring to the overall supply network.
Logistics requirements include the determination of carrier and related routing instructions in order to effectively manage inbound freight through the consideration of multiple factors including supplier location, product volume, packaging, transportation costs, and lead time.
The expectation that suppliers must share in the ownership of the shipping process to ensure products are received in a timely and cost effective manner – essentially, at the right time, in the right container, at the right shipping price, to the right location—requires that they employ advanced analytics and visibility.
And this isn't limited to process execution. All supplier shipments must be accompanied by appropriate documentation. Documentation may include, but is not limited to, packing slip, bill of lading, NAFTA certificates, commercial invoices, CMR (EU and Asia) and hazardous materials information. Thus process outputs related to documentation must be error free.
Carrier information must also be included in the supplier's Advance Ship Notice (ASN) transmission to allow for trace-ability and to ensure supplier compliance to routing instructions. When electronic generation of the ASN does not exist the supplier is required to provide a faxed copy of the shipping documents. As part of this process, suppliers are responsible for contacting the appropriate carrier, freight forwarder and customer materials personnel to ensure timely pick-up and delivery. It is the supplier's responsibility to set shipping window times in conjunction with the manufacturing plant materials personnel and the carrier to ensure delivery by the date shown on the release. Thus leveraging the carrier as part of the supply network, letting him subscribe with appropriate permissions, and then giving him access to schedule delivery appointments makes all the sense in the world.
"The real key is that in addition to optimizing transportation and logistics costs, we also want full inventory visibility and control."
Information to be provided should include, but may not be limited to, product availability, expected delivery time, special instructions, container dimensions, and weights. If shipping less-than-truckload quantities to one ship-to location, each skid must include a label indicating the plant name and address. All suppliers will be required to prepare their packing slip(s) in a standard format and must be attached (glue or tape) to the packaging (pallet shipment). The packing slip must be in a pouch/sleeve that protects it but also allows it to be removed by receiving plant. Rather than building custom integration to meet this requirements, subscribing to the network make this information available, in the correct format, in real time.
Content required in a specific format/location on the packing slip include: Packing Slip #; Sold To info; Supplier Production Plant; Ship to; BOL #; Customer part #; Description; Supplier part #; Quantity shipped; PO #; Footer which includes page number and repeats the pkg slip #.
A separate bill of lading must be created for each ship-to location, even when shipping on the same carrier. Each BOL must contain a unique BOL #. The supplier BOL must include the following:
Number of Packages and/or Handling Units – If packages are consolidated on a skid, provide both package count and skid count on the bill of lading.
Description of shipment – Enter the description of each line item. Please note the type of package (carton, tote, barrel, etc.) and the quantity per package. Each line item must include the correct National Motor Freight Classification (NMFC) Item # and Class. This information is critical to ensure correct rating so as to avoid excessive charges.
Weight – Enter the total gross weight, in pounds, for each line item. Include the weights of pallets, skids or any secondary container.
Freight Terms – Indicate 'FOB Origin, Freight Collect' terms if the customer is responsible to pay for the shipment. All freight shipped to customer facilities must be shipped freight collect unless Purchase Order states otherwise or shipment is a Supplier paid expedite or routing deviation as discussed earlier.
Whenever the customer is responsible for paying the freight charges, a routing instruction will be provided to the supplier. The routing instruction will include at least one primary carrier and an expedited carrier, and is issued by each customer receiving location.
Plant approval must be obtained from the receiving plant materials personnel for any routing instruction deviation. Any deviation from the routing instructions without customer plant approval may result in a supplier debit to compensate for excess freight charges and/or administrative fees.
Any premium freight which results from a supplier event will be managed and paid for by the supplier. Typically the customer will not take responsibility for the set-up, management, tracking or payment of a supplier-caused premium freight event. The supplier will communicate to the plant all expedite information and provide milestone updates to keep the plant informed on the arrival of the expedited components. Many Subsystem and Tier 1 Suppliers will reserve the right to take-over the management of the premium freight event if the supplier fails to communicate and effectively manage the event themselves. In these cases, the supplier may be charged for their customer's time.
When expediting freight at their customer's expense, authorization must be obtained by the supplier from the appropriate receiving plant materials personnel. Unauthorized expedited freight may result in debit to the supplier to compensate for excess freight charges and/or administrative fees.
Upon authorization of an expedite shipment, the supplier should be prepared with the following information to share with the arranging party: Protect time (the time by which the shipment must arrive); Ready time (the time by which the shipment will be ready for pickup); Shipment terms (collect if at the customer's expense); Origin – address, contact, and operating hours of the shipping facility; Shipment details – weight, dimensions, and stack-ability; Destination details – address, contact, and plant number.
If you'd like to know more on this and related subjects, I recommend you read the new Automotive Inbound Supply Best Practices whitepaper. It's an incredibly comprehensive deep dive of what automotive suppliers are being asked to do, and it provides a clear road map for how they can achieve it. I think you'll find it enlightening and useful as a practical guide to improving your business.
Latest posts by Greg Brady
(see all)